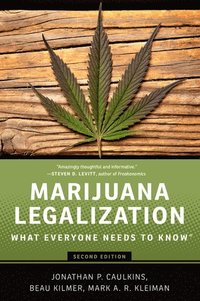 Fler böcker inom
Format

Häftad (Paperback)

Språk

Engelska

Antal sidor

304

Utgivningsdatum

2016-06-16

Upplaga

2

Förlag

Medarbetare

Kilmer, Beau / Kleiman, Mark A.R.

Illustrationer

Black & white illustrations

Dimensioner

208 x 137 x 23 mm

Vikt

363 g

Antal komponenter

1

Komponenter

142:B&W 5.5 x 8.25 in or 210 x 140 mm Perfect Bound on White w/Gloss Lam

ISBN

9780190262402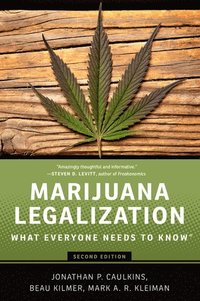 Marijuana Legalization
What Everyone Needs to KnowRG
Skickas från oss inom 3-6 vardagar.

Fri frakt över 249 kr för privatkunder i Sverige.
Finns även som
Skickas inom 10-15 vardagar
Marijuana Legalization: What Everyone Needs to Know provides readers with a non-partisan primer covering everything from the risks and benefits of using marijuana to what is happening with marijuana laws around the world. This book serves as the price of admission for any serious discussion about marijuana legalization.
Passar bra ihop
+
Fler böcker av Jonathan P Caulkins
Jonathan P Caulkins, Angela Hawken, Beau Kilmer, Mark Kleiman

Jonathan P Caulkins, Peter Reuter, Martin Y Iguchi, James Chiesa

Beau Kilmer, Jonathan P Caulkins, Rosalie Liccardo Pacula, Robert J MacCoun, Peter H Reuter
Recensioner i media
Malcolm Gladwell, author of The Tipping Point, Outliers, and Blink Marijuana Legalization is a model for how to discuss difficult and divisive issues. Both sides of the drug debate will come away wiser from having read this book.

Steven D. Levitt, author of Freakonomics An amazingly thoughtful and informative book that covers every aspect of marijuana and its legalization. This should be required reading for anyone thinking about these issues.

Paul Glastris, editor in chief of The Washington Monthly Basically, it's the book you need to read if you're serious about marijuana legalization and how to do it right.

Thomas Schelling, Nobel Laureate in Economic Sciences
Here is a book by four leading experts who collaborate in answering questions about marijuana and its possible legalization. Everything you might want to ask, answered crisply and accurately! And the four authors give, at the end, their separate recommendations: they differ, but they've agreed on 149 answers. A remarkable collaboration, and a pioneering format worth emulating.

Eric Schlosser, author of Reefer Madness
Essential reading for all who seek rational marijuana policies.

Tony Dokoupil, MSNBC
Absolute best book there is for neutral information on marijuana and legalization no matter what side you are on."

Daily Beast
One of "The 10 Best Books on Pot.

Huffington Post
One of "The Best Books about the American Drug War.

David Downs, co-author of Beyond Buds Parents, educators, law enforcement and politicians - everyone, really - should read Marijuana Legalization: What Everyone Needs to Know. Assembled by the best policy analysts of our time, yet readable at the 6th grade level."

The Weekly Standard
This is an admirably thorough, well-balanced, fair, and sensible assessment of this particular issue within the larger context of federal drug policy. The authors are specialists in the field, and seem determined to explain the problem rather than offer dogmatic solutions."

Sylvia Longmire, author of Cartel and Border Insecurity
I'm going to start out by saying if you have any interest whatsoever in the drug legalization debate, then run - don't walk - to your local or online bookstore and get this book. . . [Y]ou, as the average American, can learn a LOT about marijuana use, distribution, enforcement, decriminalization at the state level, and the legalization debate by reading this book. I'll warn you; it may cause your values to shift from 'in favor' or 'against' into a happy level of indecisiveness, which always fosters a more civil level of debate.

Booklist In this nonpartisan book (the authors themselves, all public-policy academics, don't even personally hold the same viewpoints), readers will learn about the risks and benefits of marijuana legalization. The work outlines marijuana basics in a Q&A format-such as 'Has marijuana been getting more potent?' and 'Is marijuana really the nation's l...
Övrig information
Jonathan P. Caulkins is H. Guyford Stever Professor of Operations Research and Public Policy at Carnegie Mellon University's Heinz College of Public Policy and Information Systems Management. He specializes in systems analysis of problems pertaining to drugs, crime, terror, violence, and prevention - work that won the David Kershaw Award from the Association of Public Policy Analysis and Management, a Robert Wood Johnson Health Investigator Award, and the INFORMS President's Award. Beau Kilmer is a senior policy researcher at the RAND Corporation, where he codirects the RAND Drug Policy Research Center. His research has appeared in leading journals and his commentaries about marijuana have been published by CNN, Los Angeles Times, New York Times, Newsweek, San Francisco Chronicle, Wall Street Journal, USA Today, and other outlets. Mark A.R. Kleiman is a Professor of Public Policy and the Director of the Crime Reduction and Justice Initiative at New York University's Marron Institute of Urban Management. He is a member of the Committee on Law and Justice of the National Research Council, and is a frequent guest expert in the media. He is the author of five books on drug and criminal justice policy.
Innehållsförteckning
Introduction PART I: MARIJUANA AND PROHIBITION 1. What is marijuana? What does "marijuana" mean? What is marijuana legalization? How does it feel to get high? What are the active ingredients in marijuana? What are the varieties of marijuana plants? What are the varieties of marijuana products? What is industrial hemp? What are the alternatives to smoking? Has marijuana been getting more potent? Is higher potency bad? How long does intoxication last? How long after use can marijuana be detected? Is medical marijuana the same as illegal marijuana? What is synthetic marijuana (Spice or K2)? Additional Reading 2. Who uses marijuana? How many people use marijuana? How has marijuana use changed over time? How have marijuana policies changed in the past half-century? How much marijuana do users consume? Can marijuana use lead to dependence or addiction? How common is marijuana use in the United States? What are typical patterns of marijuana use? To what extent do heavy users dominate consumption? Has heavy use become more common? How much do users spend on marijuana? Additional Reading 3. What are the risks of using marijuana? Why is it difficult to measure the consequences of marijuana use? How do researchers study the consequences of marijuana use? What is the likelihood of becoming dependent on marijuana? How bad is marijuana dependency compared to dependency on other drugs? How many users seek treatment for problems with marijuana? Does marijuana treatment work? Can users experience a fatal overdose from marijuana? Can users experience a nonfatal overdose from using too much marijuana? Does marijuana use cause emphysema and other respiratory problems? Does marijuana use cause cancer? How much harm does secondhand marijuana smoke cause? Is marijuana a "gateway drug"? Does using marijuana affect brain development? Does using marijuana lead to cognitive impairment and a reduction in IQ? Does marijuana use affect education and employment? Does using marijuana cause schizophrenia and other mental health problems? Does using marijuana influence crime and delinquency? Does marijuana use cause automobile crashes? Does mothers' prenatal marijuana use affect their babies' health? Should mothers who use marijuana breast-feed their babies? How does parental marijuana use influence child welfare? Is marijuana really safer than alcohol? Additional Reading 4. What is known about the nonmedical benefits of using marijuana? Why don't we know more about the benefits of marijuana use? Would there be more high-quality research if marijuana were legal nationally? Is there a "stoned" way of thinking? Is "stoned thinking" valuable? Does marijuana use enhance creativity? Can marijuana use enhance athletic performance? What role does cannabis play in worship? So there's no real evidence of any benefits? Why should mere pleasure count as a benefit? Additional Reading 5. What are the medical benefits of marijuana? Is marijuana medicine? But isn't smoking unhealthy? What did the 1999 Institute of Medicine report (really) say? What is the state of medical marijuana literature today? Does marijuana have legally recognized medical value in the United States? Why isn't marijuana available as a regular prescription drug in the United States? What is happening with medical marijuana outside the United States? If there are pharmaceutical cannabinoids, is there any reason to use plant material? Additional Reading 6. How stringent is marijuana enforcement in the United States? Does it make sense for marijuana to be a Schedule I substance? Who gets arrested for marijuana possession? What happens after those possession arrests? How harshly are marijuana producers and traffickers punished? How many people are in prison for marijuana offenses? Additional Reading PART II: NATIONAL LEGALIZATION AND ITS CONSEQUENCES