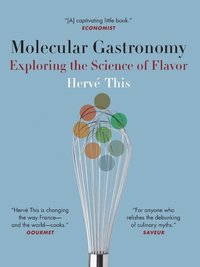 Fler böcker inom
Format

Inbunden (Hardback)

Språk

Franska

Antal sidor

392

Utgivningsdatum

2006-01-01

Upplaga

illustrated ed

Förlag

Översättare

Malcolm DeBevoise

Originalspråk

French

Illustrationer

illustrations

Dimensioner

210 x 163 x 32 mm

Vikt

600 g

Antal komponenter

1

ISBN

9780231133128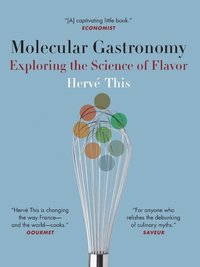 Molecular Gastronomy
Exploring the Science of Flavor
Specialorder (osäker tillgång). Skickas från oss inom 11-20 vardagar.

Fri frakt över 249 kr för privatkunder i Sverige.
Herve This (pronounced "Teess") is an internationally renowned chemist, a popular French television personality, a bestselling cookbook author, a longtime collaborator with the famed French chef Pierre Gagnaire, and the only person to hold a doctorate in molecular gastronomy, a cutting-edge field he pioneered. Bringing the instruments and experimental techniques of the laboratory into the kitchen, This uses recent research in the chemistry, physics, and biology of food to challenge traditional ideas about cooking and eating. What he discovers will entertain, instruct, and intrigue cooks, gourmets, and scientists alike. Molecular Gastronomy, This's first work to appear in English, is filled with practical tips, provocative suggestions, and penetrating insights. This begins by reexamining and debunking a variety of time-honored rules and dictums about cooking and presents new and improved ways of preparing a variety of dishes from quiches and quenelles to steak and hard-boiled eggs. He goes on to discuss the physiology of flavor and explores how the brain perceives tastes, how chewing affects food, and how the tongue reacts to various stimuli. Examining the molecular properties of bread, ham, foie gras, and champagne, the book analyzes what happens as they are baked, cured, cooked, and chilled. Looking to the future, Herve This imagines new cooking methods and proposes novel dishes. A chocolate mousse without eggs? A flourless chocolate cake baked in the microwave? Molecular Gastronomy explains how to make them. This also shows us how to cook perfect French fries, why a souffle rises and falls, how long to cool champagne, when to season a steak, the right way to cook pasta, how the shape of a wine glass affects the taste of wine, why chocolate turns white, and how salt modifies tastes.
Passar bra ihop
+
Recensioner i media
Taking kitchen science to a whole new (molecular) level, Herve This is changing the way France-and the world-cooks. Gourmet Mr. This's book will broaden the way you think about food. New York Sun This has written an interesting and timely combination of our everyday experience with sophisticated science. -- Claudia Kousoulas Appetite for Books He is revered by the revered. -- JJ Goode epicurious.com A wonderful book... it will appeal to anyone with an interest in the science of cooking. O Chef For anyone who likes to eat or cook. Choice This offers some though-provoking opportunities for play in the kitchen. Pagosa Springs Sun This book, praiseworthy for its scientific rigor, will hold a special appeal for anyone who relishes the debunking of culinary myths. -- Todd Coleman Saveur A fresh approach... that will entertain and enlighten anyone interested in the process of cooking and the enjoyment of food. -- Raymond J. Shively, Jr. The Bloomsbury Review Anyone with an inordinate passion for cooking would love this book. -- Mia Stainsby Vancouver Sun A timely addition... Suitable for both scientists and the lay public. -- Thorvald Pedersen EMBO Reports This book is laden with science while rendering a clear approach to flavor. Academia [A] captivating little book. The Economist He is fantastic. I didn't really cook before but this book may be changing my life. -- Keanu Reeves this is a great book on so many levels Yum.fi
Övrig information
Herve This is a physical chemist of the Institut National de la Recherche Agronomique in Paris. One of the two founders of the science called molecular gastronomy, he is the author of Columbia's Kitchen Mysteries: Revealing the Science of Cooking and of several other books on food and cooking. He is a monthly contributor to Pour la Science, the French-language edition of Scientific American.
Innehållsförteckning
Series Editor's Preface Introduction to the English Language Addition Part One: Secrets of the Kitchen 1 Making Stock 2 Clarifying Stock 3 Hard-Boiled Eggs 4 Quiches, Quenelles, and Puff Pastries 5 Echaudes and Gnocchi 6 The Well-Leavened Souffle 7 Quenelles and Their Cousins 8 Fondue 9 Roasting Beef 10 Seasoning Steak 11 Wine and Marinades 12 Color and Freshness 13 Softening Lentils 14 Souffleed Potatoes 15 Preserves and Preserving Pans 16 Saving a Creme Anglaise 17 Grains of Salt 18 Of Champagne and Teaspoons 19 Coffee, Tea, and Milk Part Two: The Physiology of Flavor 20 Food as Medicine 21 Taste and Digestion 22 Taste in the Brain 23 Papillary Cells 24 How Salt Affects Taste 25 Detecting Tastes 26 Bitter Tastes 27 Hot Up Front 28 The Taste of Cold 29 Mastication 30 Tenderness and Juiciness 31 Measuring Aromas 32 At Table in the Nursery 33 Food Allergies 34 Public Health Alerts Part Three: Investigations and Models 35 The Secret of Bread 36 Yeast and Bread 37 Curious Yellow 38 Gustatory Paradoxes 39 The Taste of Food 40 Lumps and Strings 41 Foams 42 Hard Sausage 43 Spanish Hams 44 Foie Gras 45 Antioxidant Agents 46 Trout 47 Cooking Times 48 The Flavor of Roasted Meats 49 Tenderizing Meats 50 Al Dente 51 Forgotten Vegetables 52 Preserving Mushrooms 53 Truffles 54 More Flavor 55 French Fries 56 Mashed Potatoes 57 Algal Fibers 58 Cheeses 59 From Grass to Cheese 60 The Tastes of Cheese 61 Yogurt 62 Milk Solids 63 Sabayons 64 Fruits in Syrup 65 Fibers and Jams 66 The Whitening of Chocolate 67 Caramel 68 Bread and Crackers 69 The Terroirs of Alsace 70 Length in the Mouth 71 Tannins 72 Yellow Wine 73 Wine Without Dregs 74 Sulfur and Wine 75 Wine Glasses 76 Wine and Temperature 77 Champagne and its Foam 78 Champagne in a Flute 79 Demi Versus Magnum 80 The Terroirs of Whisky 81 Cartagenes 82 Tea Part Four: A Cuisine for Tomorrow 83 Cooking in a Vacuum 84 Aromas or Reactions? 85 Butter: A False Solid 86 Liver Mousse 87 In Praise of Fats 88 Mayonnaises 89 Aioli Generalized 90 Orders of Magnitude 91 Hundred-Year-Old Eggs 92 Smoking Salmon 93 Methods and Principles 94 Pure Beef 95 Fortified Cheeses 96 Chantilly Chocolate 97 Everything Chocolate 98 Playing with Texture 99 Christmas Recipes 100 The Hidden Taste of Wine 101 Teleolfaction Glossary Further Reading Index