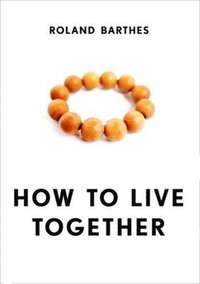 Fler böcker inom
Format

Häftad (Paperback / softback)

Språk

Franska

Antal sidor

256

Utgivningsdatum

2012-12-18

Förlag

Översättare

Kate Briggs

Originalspråk

French

Dimensioner

251 x 175 x 18 mm

Vikt

204 g

Antal komponenter

1

ISBN

9780231136174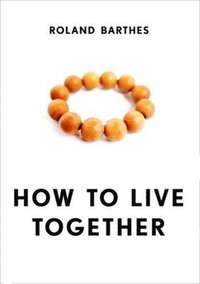 How to Live Together
Novelistic Simulations of Some Everyday Spaces
Skickas från oss inom 7-10 vardagar.

Fri frakt över 249 kr för privatkunder i Sverige.
In The Preparation of the Novel, a collection of lectures delivered at a defining moment in Roland Barthes's career (and completed just weeks before his death), the critic spoke of his struggle to discover a different way of writing and a new approach to life. The Neutral preceded this work, containing Barthes's challenge to the classic oppositions of Western thought and his effort to establish new pathways of meaning. How to Live Together predates both of these achievements, a series of lectures exploring solitude and the degree of contact necessary for individuals to exist and create at their own pace. A distinct project that sets the tone for his subsequent lectures, How to Live Together is a key introduction to Barthes's pedagogical methods and critical worldview. In this work, Barthes focuses on the concept of "idiorrhythmy," a productive form of living together in which one recognizes and respects the individual rhythms of the other. He explores this phenomenon through five texts that represent different living spaces and their associated ways of life: Emile Zola's Pot-Bouille, set in a Parisian apartment building; Thomas Mann's The Magic Mountain, which takes place in a sanatorium; Andre Gide's La Sequestree de Poitiers, based on the true story of a woman confined to her bedroom; Daniel Defoe's Robinson Crusoe, about a castaway on a remote island; and Pallidius's Lausiac History, detailing the ascetic lives of the desert fathers. As with his previous lecture books, How to Live Together exemplifies Barthes's singular approach to teaching, in which he invites his audience to investigate with him-or for him-and wholly incorporates his listeners into his discoveries. Rich with playful observations and suggestive prose, How to Live Together orients English-speaking readers to the full power of Barthes's intellectual adventures.
Passar bra ihop
+
Fler böcker av Roland Barthes
Recensioner i media
This is Roland Barthes at his inventive and idiosyncratic best: a brilliant and suggestive reader, both of literary texts and the social, psychic, and affective spaces of everyday life. -- Diana Knight, University of Nottingham
Övrig information
Roland Barthes (1915-1980) was a French literary theorist, philosopher, critic, and semiotician whose work has been central to the delineation and development of numerous schools of theory, including structuralism, semiotics, existentialism, social theory, Marxism, anthropology, and post-structuralism. His books include The Preparation of the Novel: Lecture Courses and Seminars at the College de France (1978-1979 and 1979-1980); The Neutral: Lecture Course at the College de France (1977-1978); Mythologies; S/Z; A Lover's Discourse; and Camera Lucida. Kate Briggs is the translator of Roland Barthes's The Preparation of the Novel: Lecture Courses and Seminars at the College de France (1978-1979 and 1979-1980).
Innehållsförteckning
Foreword Preface Translator's Preface Session of January 12 INTRODUCTION Method? (Method. Culture) - Fantasy - My fantasy: idiorrhythmy - Monarchism Session of January 19 INTRODUCTION (continued) Works - Greek network - Traits AKEDIA / AKEDIA Session of January 26 ANACHORESIS / ANACHORESIS Historically - Metaphorically ANIMAUX / ANIMALS 1. Robinson Crusoe (Phases. History) - 2. Anachorites ATHOS / ATHOS History - Space Session of February 2 ATHOS / ATHOS (continued) Way of Life - Ownership - Power AUTARCHIE / AUTARKY BANC / SCHOOL BEGUINAGES / BEGUINAGES History - Space - Way of Life - Socio-Economics - Power - Conclusion Session of February 9 BUREAUCRATIE / BUREAUCRACY CAUSE / CAUSE Christianity - Other sorts of Telos - Bion - Homeostasis CHAMBRE / ROOM 1. The total space Session of February 16 CHAMBRE / ROOM (continued) 2. The room becomes isolated within the house - 3. The room loses its association with the couple ? Cella - The Magnificenza CHEF / CHIEF Session of March 2 CLOTURE / ENCLOSURE Functions (Protection. Definition) - Extreme-experience COLONIE D'ANACHORETES / COLONY OF ANACHORITES 1. Qumran sect - 2. Monks of Nitria - 3. Carthusians - 4. The Solitaires of Port-Royal Session of March 9 COUPLAGE / PAIRING 1. Principle of pairing - 2. Two examples of strong pairing (Lausaic History DISTANCE / DISTANCE DOMESTIQUES / SERVANTS 1. Need = Desire - 2. Need ? Desire Session of March 16 ECOUTE / HEARING Territory and hearing - Repression and hearing EPONGE / SPONGE EVENEMENT / EVENT FLEURS / FLOWERS IDYLLIQUE / IDYLL Session of March 23 MARGINALITES / MARGINALITIES First margin: coenobitism - Second margin: idiorrhythmy MONOSIS / MONOSIS One / Two - The desire for Two - In praise of One NOMS / NAMES Nicknames Session of March 30 NOMS / NAMES (continued) Caritatism - No Name NOURRITURE / FOOD 1. Rhythms - 2. The foods themselves (the divisions of the forbidden: what's forbidden / what's tolerated). The connotations of food Session of April 20 PROXEMIE / PROXEMICS The notion - The lamp - The bed RECTANGLE / RECTANGLE Civilization of the rectangle - The frame - Subversions? REGLE / RULE Regula - Territory - Rule and Custom - Rule and Law Session of April 27 SALETE / DIRTINESS Noteworthy - Meaning - Tact XENITIA / XENITIA Semantic network - False image - Dereality - Conclusion Session of May 4 UTOPIE / UTOPIA BUT WHAT ABOUT METHOD? 1. Traits. Figures. Boxes - 2. Classification - 3. Digression - 4. Opening a dossier - 5. The supporting-text WHAT IS IT TO HOLD FORTH? RESEARCH ON INVESTED SPEECH Seminar Session of January 12 HOLDING FORTH "So Session of March 23 CHARLUS-DISCOURSE 1. Kinetics - 2. Triggers Session of March 30 CHARLUS-DISCOURSE (continued) 3. Allocutionary authority (Andromache. Charlus-Discourse) - 4. Forces ("Psychology." "Psychoanalysis." Intensities) - To take my leave and fix a new appointment SUMMARY NOTES GLOSSARY OF GREEK TERMS BIBLIOGRAPHY INDEX NOMINUM INDEX RERUM