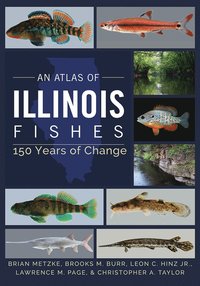 Fler böcker inom
Format

Inbunden (Hardback)

Språk

Engelska

Antal sidor

424

Utgivningsdatum

2022-06-07

Förlag

Illustrationer

259 color photographs, 227 maps, 3 tables, 20 identification keys, 8 illustrations

Dimensioner

282 x 221 x 28 mm

Vikt

1580 g

Antal komponenter

1

ISBN

9780252044144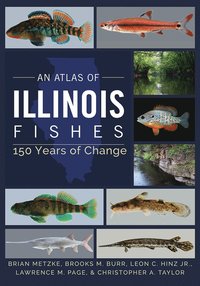 An Atlas of Illinois Fishes
150 Years of Change
Skickas från oss inom 7-10 vardagar.

Fri frakt över 199 kr för privatkunder i Sverige.
Finns även som
Läs i DRM-kompatibel e-boksläsare.
Lake Michigan, winding creeks, sprawling swamps, and one of the world's great rivers--Illinois's variety of aquatic habitats makes the Prairie State home to a diverse array of fishes. The first book of its kind in over forty years, An Atlas of Illinois Fishes is a combination of nature guide and natural history. It provides readers with an authoritative resource based on the extensive biological data collected by scientists since the mid-1850s. Each of the entries on Illinois's 217 current and extirpated fish species offers one or more color photographs; maps depicting distributions at three time periods; descriptions of identifying features; notes on habitat preference; and comments on distribution. In addition, the authors provide a pictorial key for identifying Illinois fishes. Scientifically up-to-date and illustrated with over 240 color photos, An Atlas of Illinois Fishes is a benchmark in the study of Illinois's ever-changing fish communities and the habitats that support them.
Passar bra ihop
+
Fler böcker av författarna
Robert H Robins, Lawrence M Page, James D Williams, Zachary S Randall, Griffin E Sheehy
Recensioner i media
"There are identification keys, photos, range maps, conservation information and more. This one fills a welcome need in my fish reference library. Any fish nerd would enjoy it." --Nature "'An Atlas of Illinois Fishes' joins the pantheon on the shelf left of my desk, within easy reach. " -- Dale Bowman, Chicago Sun-Times "The authors have done an excellent job in tracking down a tremendous amount of great information, both published and unpublished, about fish distribution in Illinois, and the thoroughness of their analyses and the detail they provide are impressive."--John Lyons, Curator of Fishes, University of Wisconsin Zoological Museum "What a monumental endeavor--to capture all that has changed in Illinois fish diversity and distribution in recent times. The result is a reference that will be enjoyed by scientist and naturalist alike."--Brant Fisher, Indiana Department of Natural Resources "If you are an amateur naturalist, An Atlas of Illinois Fishes: 150 Years of Change will be a welcome addition to your home library. If you are a professional biologist, the book will be a welcome addition to your office bookshelf. And, that's just what the authors had in mind when they decided to write the book. It's the first definitive book written on Illinois fish in 40 years." --Les Winkeler, Southern Illinoisan
Övrig information
Brian A. Metzke is State Aquatic Ecologist for the Illinois Department of Natural Resources. Brooks M. Burr is Emeritus Professor of Zoology at Southern Illinois University Carbondale and a coeditor of Freshwater Fishes of North America. Leon C. Hinz Jr. is the Wildlife Action Plan Coordinator for the Illinois Department of Natural Resources. Lawrence M. Page is Curator of Fishes at the Florida Museum of Natural History. He is coauthor of Peterson Field Guide to Freshwater Fishes of North America North of Mexico. Christopher A. Taylor is an aquatic biologist and Curator of Fishes and Crustaceans with the Illinois Natural History Survey at the Prairie Research Institute at the University of Illinois Urbana-Champaign.
Innehållsförteckning
xv Acknowledgments 1 Purpose and Scope 3 Setting the Scene 12 A Historical Perspective of Illinois Fishes 17 Fish Morphology 20 Organization of Illinois Family and Species Accounts 21 Methods for Mapping Species Distributions 26 Key to the Families of Illinois Fishes 41 LAMPREYS (Family Petromyzontidae) 42 Key to the Lampreys 46 Ohio Lamprey, Itchthyomyzon bdellium 47 Chestnut Lamprey, Ichthyomyzon castaneus 48 Northern Brook Lamprey, Ichthyomyzon fossor 49 Silver Lamprey, Ichthyomyzon unicuspis 50 Least Brook Lamprey, Lampetra aepyptera 51 American Brook Lamprey, Lethenteron appendix 52 Sea Lamprey, Petromyzon marinus 53 STURGEONS (Family Acipenseridae) 54 Key to the Sturgeons 56 Lake Sturgeon, Acipenser fulvescens 57 Pallid Sturgeon, Scaphirhynchus albus 58 Shovelnose Sturgeon, Scaphirhynchus platorynchus 59 PADDLEFISHES (Family Polyodontidae) 60 Paddlefish, Polyodon spathula 61 GARS (Family Lepisosteidae) 62 Key to the Gars 64 Alligator Gar, Atractosteus spatula 65 Spotted Gar, Lepisosteus oculatus 66 Longnose Gar, Lepisosteus osseus 67 Shortnose Gar, Lepisosteus platostomus 68 BOWFINS (Family Amiidae) 69 Bowfin, Amia calva 70 FRESHWATER EELS (Family Anguillidae) 71 American Eel, Anguilla rostrata 72 MOONEYES (Family Hiodontidae) 73 Key to the Mooneyes 74 Goldeye, Hiodon alosoides 75 Mooneye, Hiodon tergisus 76 SHADS AND HERRINGS (Family Clupeidae) 77 Key to the Shad and Herrings 79 Alabama Shad, Alosa alabamae 80 Skip Jack Herring, Alosa chrysochloris 81 Alewife, Alosa pseudoharengus 82 Gizzard Shad, Dorosoma cepedianum 83 Threadfin Shad, Dorosoma petenense 84 SUCKERS (Family Catostomidae) 85 Key to the Suckers 94 River Carpsucker, Carpiodes carpio 95 Quillback, Carpiodes cyprinus 96 Highfin Carpsucker, Carpiodes velifer 97 Longnose Sucker, Catostomus catostomus 98 White Sucker, Catostomus commersonii 99 Blue Sucker, Cycleptus elongatus 100 Western Creek Chubsucker, Erimyzon claviformis 101 Lake Chubsucker, Erimyzon sucetta 102 Northern Hog Sucker, Hypentelium nigricans 103 Smallmouth Buffalo, Ictiobus bubalus 104 Bigmouth Buffalo, Ictiobus cyprinellus 105 Black Buffalo, Ictiobus niger 106 Spotted Sucker, Minytrema melanops 107 Silver Redhorse, Moxostoma anisurum 108 River Redhorse, Moxostoma carinaturm 109 Black Redhorse, Moxostoma duquesnei 110 Golden Redhorse, Moxostoma erythrurum 111 Shorthead Redhorse, Moxostoma macrolepidotum 112 Greater Redhorse, Moxostoma valenciennesi 113 BARBS AND CARPS (Family Cyprinidae) 114 Key to the Barbs and Carps 115 Goldfish, Carassius auratus 116 Common Carp, Cyprinus carpio 117 SHARPBELLIES (Family Xenocyprididae) 118 Key to the Sharpbellies 120 Grass Carp, Ctenopharyngodon idella 121 Silver Carp, Hypophthalmichthys molitrix 122 Bighead Carp, Hypophthalmichthys nobilis 123 Black Carp, Mylopharyngodon piceus 124 MINNOWS (Family Leuciscidae) 125 Key to the Minnows 153 Central Stoneroller, Campostoma anomalum 154 Largescale Stoneroller, Campostoma oligolepis 155 Southern Redbelly Dace, Chrosomus erythrogaster 156 Redside Dace, Clinostomus elongatus 157 Lake Chub, Couesius plumbeus 158 Red Shiner, Cyprinella lutrensis 159 Spotfin Shiner, Cyprinella spiloptera 160 Blacktail Shiner, Cyprinella venusta 161 Steelcolor Shiner, Cyprinella whipplei 162 Silverjaw Minnow, Ericymba buccata 163 Gravel Chub, Erimystax x-punctatus 164 Western Silvery Minnow, Hybognathus argyritis 165 Brassy Minnow, Hybognathus hankinsoni 166 Cypress Minnow, Hybognathus hayi 167 Mississippi Silvery Minnow, Hybognathus nuchalis 168 Plains Minnow, Hybognathus placitus 169 Bigeye Chub, Hybopsis amblops 170 Pallid Shiner, Hybopsis amnis 171 Striped Shiner, Luxilus chrysocephalus 172 Common Shiner, Luxilus cornutus 173 Bleeding Shiner, Luxilus zonatus 174 Scarlet Shiner, Lythrurus fasciolaris 175 Ribbon Shiner, Lythrurus fumeus 176 Redfin Shiner, Lythrurus umbratilis 177 Sturgeon Chub, Macrhybopsis gelida 178 Shoal Chub, Mac