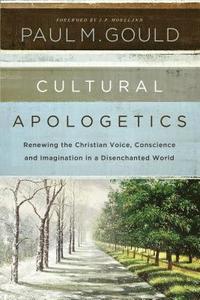 Fler böcker inom
Format

Häftad (Paperback / softback)

Språk

Engelska

Antal sidor

240

Utgivningsdatum

2019-04-18

Förlag

Medarbetare

Moreland, J. P. (foreword)

Illustrationer

Black & white illustrations

Dimensioner

226 x 152 x 18 mm

Vikt

272 g

Antal komponenter

1

Komponenter

1 Paperback / softback

ISBN

9780310530497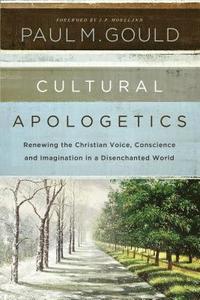 Cultural Apologetics
Renewing the Christian Voice, Conscience, and Imagination in a Disenchanted World
Skickas från oss inom 7-10 vardagar.

Fri frakt över 249 kr för privatkunder i Sverige.
Finns även som
Läs i DRM-kompatibel e-boksläsare.
Renewing the Christian voice, conscience, and imagination so that we can become compelling witnesses of the Gospel in today's culture. Christianity has an image problem. While the culture we inhabit presents us with an increasingly anti-Christian and disenchanted position, the church in the West has not helped its case by becoming anti-intellectual, fragmented, and out of touch with the relevancy of Jesus to all aspects of contemporary life. The muting of the Christian voice, its imagination, and its collective conscience have diminished the prospect of having a genuine missionary encounter with others today. Cultural apologetics attempts to demonstrate not only the truth of the Gospel but also its desirability by reestablishing Christianity as the answer that satisfies our three universal human longingstruth, goodness, and beauty. In Cultural Apologetics, philosopher and professor Paul Gould sets forth a fresh and uplifting model for cultural engagementrooted in the biblical account of Paul's speech in Athenswhich details practical steps for establishing Christianity as both true and beautiful, reasonable and satisfying. You'll be introduced to: The idea of cultural apologetics as distinct from traditional apologetics. The path from disenchantment with how we understand reality to re-enchantment with the reality of the spiritual nature of things. The practical tools of good cultural engagement: conscience, reason, and imagination. Equip yourself to see, and help others see, the world as it is through the lens of the Spiritdeeply beautiful, mysterious, and sacred. With creative insights, Cultural Apologetics prepares readers to share a vision of the Christian faith that is both plausible and desirable, offering clarity for those who have become disoriented in the haze of modern Western culture.
Passar bra ihop
+
Fler böcker av Paul M Gould
Graham Oppy, K Scott Oliphint, Timothy McGrew, Paul Moser, Paul M Gould
Recensioner i media
'Always be ready to give a reason for the hope that is in you, said the apostle Peter. Paul Gould in this fine book gives reasons for hope that are not just argumentative or propositional but narrative and personal, reasons that resonate with those hard-to- articulate but utterly essential components of life: mystery, beauty, holiness, and wholeness. Here is a clear, personable, heartening work, which I warmly recommend.' * <b> Michael Ward, fellow of Blackfriars Hall, University of Oxford, professor of apologetics, Houston Baptist University </b> * 'Cultural Apologetics is a timely and balanced book. Although Gould addresses some big apologetics issues today, Cultural Apologetics is more of a practical roadmap for advancing the Christian message through reason, imagination, and conscience. I highly recommend this book not only for those interested in apologetics but for Christians interested in learning how to creatively bring the Christian voice into cultural conversations today.' * <b>Sean McDowell, associate professor of Christian apologetics, Talbot School of Theology, a popular speaker, and author or coauthor of over eighteen books, including A New Kind of Apologist </b> * 'I have long known that culture is a powerful means of spiritual formation. It is also a tacit means of shaping what people consider plausible, and what they feel to be true, good, and beautiful. Paul Gould's Cultural Apologetics works not a paradigm change so much as a paradigm expansion on our concept of what apologetics is and does, but it is nonetheless revolutionary for that. This is the book on apologetics for which I have long been waiting.' * <b>Kevin J. Vanhoozer, research professor of systematic theology, Trinity Evangelical Divinity School </b> * 'I often find myself distressed when I consider the current state of the church's witness to the world. How has the greatest story the world has ever known lost its credibility, its beauty, and its persuasive power? Not only does this book answer these questions with penetrating insight, but it also shows us a hopeful way forward. By giving us a holistic apologetic that brings together the mind, the conscience, and the imagination, Paul charts a thoroughly biblical course for the church's cultural engagement. Every Christian should read this book carefully, as it will effectively prepare us to bear witness to the truth, goodness, and beauty of the gospel of Jesus to a disenchanted culture.' * <b>Brett Kunkle, founder and president of MAVEN, coauthor of A Practical Guide to Culture </b> * 'Reading this book is a pure joy. A breath of fresh air, Cultural Apologetics is one of the best books I've read in years. Paul Gould was meant to write it. His ideas having marinated, his prodigious teaching skills honed, his reading wide and deep, he was able to write with the fertile mind of a philosopher, capacious heart of a poet, vivid imagination of an artist, and the nimble hands of a passionate practitioner. This is essential reading for every actual or budding apologist; in fact, the book deserves a very wide readership among believers and skeptics alike. It is not a book to be read quickly but digested and savored. Read, relish, and reread it; use it in class; give it away as a gift. Culturally informed and sensitive, embodying what it extolls, eclectic in numerous respects, and punctuated with clever and telling illustrations--both verbal and visual--this remarkable book makes a powerful case for an expansive apologetic faithful to a true anthropology. It's just the corrective to reawaken the imagination of a disenchanted age. Every page crackles with insight and erudition. At moments it's veritably sublime and enchanting and as inspiring, persuasive, and moving as it is eminently practical. I simply can't recommend it enough.' * <b>David Baggett, professor of philoso
Övrig information
Paul Gould is the Assistant Professor of Philosophy and Christian Apologetics at Southwestern Baptist Theological Seminary and a Senior Research Fellow in Faith and Culture with the Land Center. He is the author of the upcoming releases, An Introduction to Philosophy and Stand Firm: Apologetics and the Brilliance of the Gospel, and coeditor of Four Views on Christianity and Philosophy. He regularly travels around the country to speak to students about evangelism, apologetics, philosophy, and spiritual formation. He blogs at www.paul-gould.com.
Innehållsförteckning
Chapter 1. What Is Cultural Apologetics? The cultural apologist seeks to have missionary encounters by having a holistic understanding of the way nonbelievers perceive, think, and live in modern Western culture. This requires paying attention to the collective mind, conscience, and imagination of the culture, building bridges from culture to the gospel, and addressing barriers to the gospel along the way. In this chapter the what, why, and how of cultural apologetics will be explored. A model of cultural engagement, patterned after the apostle Pauls speech in Athens, will be described. This model will be further unpacked in the remaining chapters. Chapter 2. Disenchantment The first task of the cultural apologist is to understand the surrounding culture. In this chapter I will explore the collective mindset, conscience, and imagination of Western culture and argue that it is best described as disenchanted. The world is no longer seen in its proper light. Instead of seeing reality as sacred and beautiful, it is often viewed as mundane, ordinary, and familiar. As a culture, we are under a spell, taking for granted life, beauty, goodness, and the holy instead of seeing them as gifts from their Creator. In this chapter I shall describe culture as primarily disenchanted, and within that understanding, I will describe its sensate and hedonistic characteristics as well. Chapter 3. Re-enchantment The world deadens desires by channeling them in a very limited direction, primarily the stream of sensual experience and (momentary) personal fulfillment. Many people dont know they are missing anything. The second task of the cultural apologist, then, is to awaken desire. The world needs re-enchantment. The otherness and giftedness of reality needs to be seen afresh so that creation may be seen in relation to its divine source. An important starting point in this process of re-enchantment is to pay attention to universal human longings for truth, goodness, and beauty. Well explore how our longings point to something that weve lost, awaken our soul, and, if properly followed, lead us to God. Chapter 4. Imagination Human imagination will be our first guide to be explored, the first plank in the bridge from the culture---our Athens---to the gospel and Jesus. It is, as C. S. Lewis puts it, the organ of meaning. Imagination provides, along with physical sensation, the raw materials for reason to judge as true or false. Imagination longs for a beauty that captivates. It seeks---in literature, music, art, and nature---tantalizing glimpses of Heaven, of a world made right, where everything is seen in its proper light, charged with grandeur, and imbued with a childlike, fresh wonder. In this chapter well look at the role of imagination in the process of awakening desire, reenchanting the world, and pointing others to Christ. Chapter 5. Reason Human reason is our next guide or plank in the bridge between culture and the gospel. Christianity is true, and it can be shown as such. In this chapter I shall look at reason by examining and defending the so-called Argument from Reason (defended recently by C. S. Lewis, Victor Reppert, and Alvin Plantinga), and then look along reason by showing how the deliverances of philosophy, science, and history support the truth of Christianity. The look at/look along distinction is from C. S. Lewiss essay Meditation in a Tool Shed, found in Walter Hooper ed., God in the Dock (Grand Rapids, MI: Eerdmans, 1970). Chapter 6. Conscience The human conscience is our final guide or plank in our model of cultural engagement. As C. S. Lewis famously noted, all human beings acknowledge some kind of morality. We realize there is a moral law and that we stand condemned under it. In this chapter I shall explore the Argument from Morality and trace our longing for justice and wholeness to its fount in Christ. Chapter 7. Home In this final chapter I shall consider barriers to