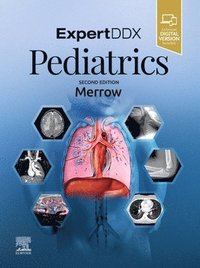 Fler böcker inom
Format

Inbunden (Hardback)

Språk

Engelska

Antal sidor

850

Utgivningsdatum

2019-11-05

Upplaga

2

Dimensioner

284 x 224 x 38 mm

Vikt

2679 g

Antal komponenter

1

ISBN

9780323681773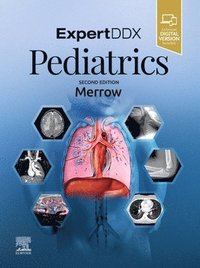 EXPERTddx: Pediatrics
Skickas inom 7-10 vardagar.

Gratis frakt inom Sverige över 199 kr för privatpersoner.
Finns även som
Läs i DRM-kompatibel e-boksläsare.
Now fully revised and up to date, ExpertDDx: Pediatrics, second edition,quickly guides you to the most likely differential diagnoses based on key imaging findings and clinical information. Designed with the busy practitioner in mind, this superbly illustrated resource covers more than 1,500 diagnoses encountered by pediatric radiologists and their referring clinicians, discussed by general imaging features, modality-specific findings, and clinically based indications. The broad spectrum of coverage includes cardiac, chest, musculoskeletal, gastrointestinal, genitourinary, brain, head and neck, and spine pediatric diseases-all clearly presented to guide you through useful, actionable differential diagnoses that lead to definitive findings.


Passar bra ihop
+
Fler böcker av Jr Merrow A Carlson
Jr Merrow A Carlson

Every page crafted by a collaborative team of pediatricians and pediatric radiologists, this unique title by Drs. A. Carlson Merrow, Jr. and Selena Hariharan is a practical, superbly illustrated reference designed specifically for today's pediatri...

Jr Merrow A Carlson

Covering the entire spectrum of this fast-changing field,Diagnostic Imaging: Pediatrics,fourth edition,is an invaluable resource for pediatric radiologists, general radiologists, and trainees-anyone who requires aneasily accessible, highly visual ...
Innehållsförteckning
Cardiac High-Output Heart Failure Massive Cardiomegaly Cardiac or Pericardial Mass Acyanotic Heart Disease With Increased Vascularity Cyanotic Heart Disease With Decreased Vascularity Cyanotic Heart Disease With Variable or Increased Vascularity Right Atrial Enlargement Right Ventricular Enlargement Small Pulmonary Artery Prominent Pulmonary Artery Left Atrial Enlargement Left Heart Obstructive Lesion Congenital Aortic Arch Anomalies Obstructive Aortic Arch Lesions Dilated Thoracic Aorta Situs Anomalies
Chest Reticulonodular Infiltrate Neonatal Irregular Lung Opacities Bubbly Lungs Unilateral Hyperlucent Lung Bilateral Hyperlucent Lungs Lung Cavity Lucent Lung Mass Round Lung Mass Multiple Pulmonary Nodules Consolidation Neonatal Chest Mass Chest Wall Mass Rib Lesion Pneumothorax Pneumomediastinum Mediastinal Widening Anterior Mediastinal Mass Middle Mediastinal Mass Posterior Mediastinal Mass Esophageal Stricture Esophageal Extrinsic Impressions
Gastrointestinal Neonatal Proximal Bowel Obstruction Neonatal Distal Bowel Obstruction Microcolon Dilated Stomach Duodenal Obstruction Small Bowel Obstructions Beyond Neonates Diffusely Abnormal Small Bowel Acute Abdomen in Infants and Children Right Lower Quadrant Pain Abnormal Appendix Intussusception Colitis Pneumatosis Pneumoperitoneum Mesenteric Lesions Cystic Abdominal Mass Abdominal Mass in Neonate Solid Abdominal Mass in Child Abdominal Aortic Anomalies Hepatic Mass in Neonate Hepatic Mass in Child Multiple Liver Lesions Pancreatic Mass Splenic Lesions Abdominal Calcifications in Child Metallic Foreign Bodies
Genitourinary Retroperitoneal Mass Suprarenal Mass Solid Renal Mass, Solitary Solid Renal Mass, Multifocal Renal Cysts Bilateral Hydronephrosis Unilateral Hydronephrosis Pelvic Mass Ovarian Mass Scrotal Mass Scrotal Pain Bladder Mass Urethral Variations and Abnormalities
Musculoskeletal Epiphyseal Irregularity or Stippling Epiphyseal Overgrowth Dense Metaphyseal Bands and Lines Lucent Metaphyseal Bands and Lines Metaphyseal Fraying/Irregularity Metaphyseal Cupping Physeal Widening Physeal Bridge/Growth Arrest Bubbly Bone Lesion Multifocal Nonaggressive Bone Lesions Multifocal Aggressive Bone Lesions Extensive Marrow Abnormalities Diaphyseal Lesion Sclerotic Bone Lesions Painful Hip Abnormal Femoral Head Coxa Magna Deformity Joint Effusion or Synovitis Arthritis in Child Elbow Fractures Radial Dysplasia/Aplasia Lower Extremity Bowing Congenital Foot Deformity Skeletal Dysplasia With Short Extremities Skeletal Dysplasia With Short Ribs Skeletal Dysplasia With Major Spine Involvement Focal Gigantism/Macrodactyly Soft Tissue Mass Soft Tissue Calcifications Multifocal Periosteal Reaction Child Abuse
Brain Microcephaly Macrocrania/Macrocephaly Subarachnoid Space Normal Variants Ventriculomegaly Intracr...