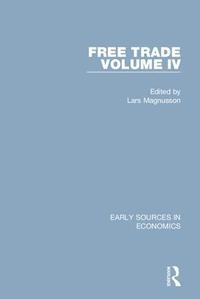 Fler böcker inom
Format

Mixed media product

Språk

Engelska

Antal sidor

1248

Utgivningsdatum

1997-03-01

Förlag

Antal komponenter

4

Komponenter

Contains 4 hardbacks

ISBN

9780415133166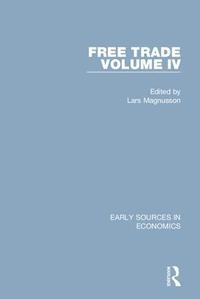 Free Trade: 1793-1886
Skickas inom 7-10 vardagar.

Gratis frakt inom Sverige över 199 kr för privatpersoner.
Trade is the dominant subject in nineteenth century economics. During the course of the century, Britain was transformed from a protectionist power to an open economy, a change embodied by the repeal of the Corn Laws in 1846. This is reflected in the economic literature of the period, with the qualified free trade advocacy of the early classical economists developing into more strident views of the Manchester School. However throughout the period free trade did not go unchallenged, and by the end of the century a fully developed protectionist position had emerged represented by, for example, the economic nationalism of Henry Carey in the United States and in the fair trade movement in Britain. Free Trade: 1793-1886 provides a comprehensive collection of materials relating to the major debates about external trade in the nineteenth century. It represents a wide range of opinions, and combines materials by leading figures, with some extremely rare but representative pieces from less well-known names. The collection includes an original introduction by the editor, and each of the individual pieces has been carefully retypeset. The set includes material by: James Mill, Richard Cobden, Robert Torrens, John Ramsey McCulloch, Freidrich List, Henry Carey and M. Frederick Bastiet.
Passar bra ihop
+
Fler böcker av Lars Magnusson
Mats Larsson, Lena Andersson-Skog, Oscar Broberg, Lars Magnusson, Tom Pettersson
Innehållsförteckning
Volume One: Introduction Part I: The Doubted Dogma 1. James Mill, Commerce Defended (1808) 2. Mountifort Longfield, Three Lectures on Commerce (1835) 3. Richard Cobden, England, Ireland, America (1835) 4. Robert Torrens, Letters on Commercial Policy (1833) 5. John Ramsey McCulloch, A Treatise on the Principles, Practice and History of Commerce (1831) Volume Two: Part II: The National System Builders 6. Alexander Hamilton, Report of the Secretary of the Treasury of the United States on the Subject of Manufactures (1793) 7. Freidrich List, The National System of Political Economy ch. 11 to 27 (1885) 8. Anon., Fruits of the System Called Free Trade (1818) 9. William Huskisson, Free Trade: Speech of the Right Honourable William Huskisson in the House of Commons, Thursday, the 23rd of February 1826 (1826) Volume Three: 10. Anon. (Mathew Carey), Cursory Views of the Liberal and Restrictive System of Political Economy (1826) 11. Anon., An Essay in Answer to the Question, Whether Does the Priniciple of Competition ... (1834) 12. Isaac Butt, Protection to Home Industry (1840) 13. Henry Carey, The Working of British Free Trade (1852) 14. Henry Carey, Commerce, Christianity and Civilization Versus British Free Trade (1876) Volume Four: Part III: Harmony Economists and British Fair Traders 15. M. Frederick Bastiat, That Which Is Seen and That Which Is Not Seen (1854) 16. M. Frederick Bastiat, Protection and Commerce (1852) 17. John W. Calvert, The Merits and Tendencies of the Free Trade and Protection Respectively Investigated (1850) 18. Pelekus, Fair Trade Versus Free Trade (1881) 19. T.F. Cashin, Free Trade Fallacies of Cobden Refuted (1886) 20. Fred, Morton Eden, There Is No God But Free Trade and Cobden Is His Prophet (1886) 21. A. Mongredian, Half a Pair of Scissors (1885)