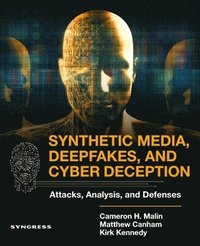 Fler böcker inom
Format

Häftad (Paperback)

Språk

Engelska

Antal sidor

250

Utgivningsdatum

2024-06-01

Förlag

Medarbetare

Canham, Matthew / Kennedy, Kirk

Antal komponenter

1

ISBN

9780443238871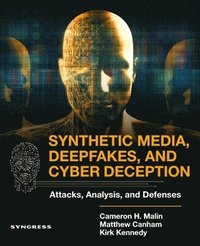 Synthetic Media, Deep Fakes, and Cyber Deception
Attacks, Analysis, and Defenses
Ännu ej utkommen – klicka "Bevaka" för att få ett mejl så fort boken boken går att köpa.
Synthetic Media, Deepfakes, and Cyber Deception: Attacks, Analysis, and Defenses
introduces the only analytical Synthetic Media Analysis Framework (SMAF) to help describe cyber threats and help security professionals anticipate and analyze attacks. This framework encompasses seven dimensions: Credibility, Control, Medium, Interactivity, Familiarity, Intended Target, and Evocation. Synthetic media is a broad term that encompasses the artificial manipulation, modification, and production of information, covering a spectrum from audio-video deepfakes to text-based chatbots. Synthetic media provides cyber attackers and scammers with a game-changing advantage over traditional ROSE attacks because they have the potential to convincingly impersonate close associates through text, imagery, voice, and video. This burgeoning threat has yet to be meaningfully addressed through any written treatment on the topic. The book is co-authored by three cyber influence and deception experts who have gained deep knowledge and experience on the topic through diverse, true operational pathways and backgrounds. The diversity and perspectives of the author team makes the content in the book the broadest and deepest treatment of synthetic media attacks available to readers.
Introduces the authors' Synthetic Media Assessment Framework (SMAF) to effectively and efficiently analyze threats based on discrete criteria
Covers case examples to contextualize threats and assess them through the SMAF
Provides end-of-chapter questions to re-affirm knowledge of the audience
Includes a SMAF Analysis worksheet for tactical use in assessing threats
Fler böcker av Cameron H Malin
Cameron H Malin, Eoghan Casey, James M Aquilina

Cameron H Malin, Eoghan Casey, James M Aquilina

Cameron H Malin, Eoghan Casey, James M Aquilina
Övrig information
Cameron H. Malin is a Behavioral Profiler with over 20 years of experience investigating, analyzing and profiling cyber adversaries across the spectrum of criminal to national security. He is the founder of the FBI Behavioral Analysis Unit's (BAU) Cyber Behavioral Analysis Center (CBAC) and the longest serving FBI Cyber Profiler. He is a co-author of the authoritative cyber deception book, Deception in the Digital Age: Exploiting and Defending Human Targets Through Computer-Mediated Communications (published by Academic Press, an imprint of Elsevier, Inc.) and co-author of the Malware Forensics book series: Malware Forensics: Investigating and Analyzing Malicious Code, Malware Forensics Field Guide for Windows Systems, and Malware Forensics Field Guide for Linux Systems (all published by Syngress, an imprint of Elsevier, Inc.). Cameron is the creator of Digital Behavioral Criminalistics - a combined application of numerous forensic disciplines-digital forensics, criminalistics, and behavioral sciences-to meaningfully uncovering offender thoughts and actions in digital artifacts-as well as the Cyber Pathway to Intended Violence (CPIV)-a model for assessing violent offenders who have engaged computer systems, devices, and/or online resources before, during, and/or after a premeditated, violent act. These important emerging topics were published in his book chapter Digital Behavioral Criminalistics to Elucidate the Cyber Pathway to Intended Violence in the International Handbook of Threat Assessment, 2nd Edition (Oxford University Press, 2021). Prior to working for the FBI, Cameron was an Assistant State Attorney (ASA) and Special Assistant United States Attorney in Miami, Florida, where he specialized in computer crime prosecutions. During his tenure as an ASA, he was also an Assistant Professorial Lecturer in the Computer Fraud Investigations Master's Program at George Washington University. Dr. Matthew Canham is the CEO of Beyond Layer 7, a security consulting firm specializing in mitigating insider risk, human-centric security solutions, and data analytics. He is a founding member of the Cognitive Security Institute, a non-profit organization dedicated to research and understanding the nuances of defending human and artificial decision makers from cognitive attacks. He currently holds an affiliated faculty member appointment with George Mason University, where the focus of his research orients around synthetic media - deepfake-social social engineering attacks, cognitive security, and insider risk. Dr. Canham was previously a Special Agent for the FBI, where he investigated cybercrimes, insider threats, and ran cyber HUMINT operations as a certified online covert employee. During his tenure with the FBI, he also served as a subject matter expert with the Behavioral Analysis Program (BAP) and as the Technical Liaison between the Operational Technology Division (OTD) and the Cyber Behavioral Analysis Center (CBAC). Dr. Canham has previously taught...
Innehållsförteckning
Section I: Principles of Influence and Persuasion 1. Psychological Principles of Online Influence 2. Online Credibility Assessment 3. The Psychology of Trust Section II: Principles of Online Deception 4. The Psychology of Deception 5. "Oh what a tangled Web 2.0 we weave": Typologies of Online Deception 6. Nation-State Cyber Deception Practices 7. Synthetic Media Use by Cyber Crime Threat Actors Section III: Understanding the Synthetic Media Assessment Framework 8. The Synthetic Media Kill Chain 9. Overview of the Synthetic Media Assessment Framework 10. Control 11:. Medium 12. Interactivity 13. Familiarity 14. Intended Target 15. Evocation Section IV: Applying the Synthetic Media Assessment Framework 16. Putting it All Together-Assessing Attack Scenarios 17. SMAF Best Practices