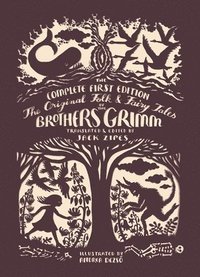 Fler böcker inom
Format

Inbunden (Hardback)

Språk

Engelska

Antal sidor

568

Utgivningsdatum

2014-10-19

Upplaga

with deckle edge

Utmärkelser

Short-listed for Choice Magazine Outstanding Reference/Academic Book Award 2015

Förlag

Översättare

Jack Zipes

Originalspråk

English

Medarbetare

Zipes, Jack (ed. & transl.)

Illustratör/Fotograf

Illustrationer

20 halftones.

Dimensioner

222 x 165 x 38 mm

Vikt

864 g

Antal komponenter

1

ISBN

9780691160597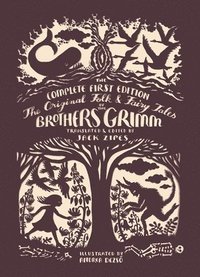 The Original Folk and Fairy Tales of the Brothers Grimm
The Complete First Edition
Skickas från oss inom 7-10 vardagar.

Fri frakt över 249 kr för privatkunder i Sverige.
Finns även som
Läs i DRM-kompatibel e-boksläsare.

Skickas inom 7-10 vardagar
When Jacob and Wilhelm Grimm published their Children's and Household Tales in 1812, followed by a second volume in 1815, they had no idea that such stories as "Rapunzel," "Hansel and Gretel," and "Cinderella" would become the most celebrated in the world. Yet few people today are familiar with the majority of tales from the two early volumes, since in the next four decades the Grimms would publish six other editions, each extensively revised in content and style. For the very first time, The Original Folk and Fairy Tales of the Brothers Grimm makes available in English all 156 stories from the 1812 and 1815 editions. These narrative gems, newly translated and brought together in one beautiful book, are accompanied by sumptuous new illustrations from award-winning artist Andrea Dezso. From "The Frog King" to "The Golden Key," wondrous worlds unfold--heroes and heroines are rewarded, weaker animals triumph over the strong, and simple bumpkins prove themselves not so simple after all. Esteemed fairy tale scholar Jack Zipes offers accessible translations that retain the spare description and engaging storytelling style of the originals. Indeed, this is what makes the tales from the 1812 and 1815 editions unique--they reflect diverse voices, rooted in oral traditions, that are absent from the Grimms' later, more embellished collections of tales. Zipes's introduction gives important historical context, and the book includes the Grimms' prefaces and notes. A delight to read, The Original Folk and Fairy Tales of the Brothers Grimm presents these peerless stories to a whole new generation of readers.
Passar bra ihop
+
Fler böcker av författarna
Recensioner i media
One of Choice's Outstanding Academic Titles for 2015 One of The Independent's Best Books of 2014 One of South China Morning Post's Best Books of 2014 One of The Globe and Mail 75 Book Ideas for Christmas 2014 "This collection contains many of the most-loved fairy tales in the history of the form ... The book is a classic, formed like a mosaic of precious small pieces, each one glinting with its own color and character, glass and crystalline, but somehow hard, unyielding."--Marina Warner, New York Review of Books "[A] faithful translation--accompanied by striking black-and-white illustrations, evocative of shadow theatre, by Andrea Dezso... [T]he Grimms are spare, spinning the tales into beautifully wrought short stories."--Francesca Wade, Times Literary Supplement "This new translation ... allows those without German expertise a chance to re-experience familiar stories in all their original Hemingwayesque terseness."--Michael Dirda, Washington Post "[T]he new Zipes translation of the first edition, with all its notes and annotations, is a must, a treasure for anyone with a serious interest in fairy tales, the motifs of which linger perpetually in the collective mind."--Carmel Bird, Sydney Morning Herald "Thoroughly engaging, Zipes' translations into colloquial American English breathe life into these stories. Award-winning artist Andrea Dezso's cut-paper black and white illustrations capture the essence of this strange and enchanting world that will entice fans of mystical realms and those interested in better understanding the Grimms' enduring influence on literature."--Barbara Basbanes Richter, Fine Books & Collections "[M]agnificent ... what makes this newly released original volume especially enchanting are the breathtaking illustrations by Romanian-born artist Andrea Dezso."--Maria Popova, Brain Pickings "Zipes, who edited and translated the new collection, has done splendid work, first in arguing for the early tales' significance... Zipes' most important achievement, though, is simply putting the complete, uncensored tales before readers to judge for themselves... The Original Folk and Fairy Tales--beautifully illustrated by Andrea Dezso, by the way--isn't the Disneyfied version of the Brothers Grimm that we all grew up with. But for readers whose tastes lean more to, say, Tim Burton, wading into the collection might feel like stumbling into an agreeably dark and Gothic forest."--Doug Childers, Richmond Times-Dispatch "Never before published in English, the first edition of the Brothers Grimms' tales reveals an unsanitised version of the stories that have been told at bedtime for more than 200 years... His version of the original 156 stories ... shows a very different side to the well-known tales, as well as including some gruesome new additions."--Alison Flood, The Guardian "[R]emarkable... Zipes's introduction ... is illuminating... This is the uncut Brothers Grimm: shocking, funny, and at times downright weird."--Rebecca K. Morrison, Independent "[B]eguiling collections that are both a showcase of the enduring fascination with tales of the marvelous and strange and a celebration of those scholars who continue to research the realm of folklore. They unearth gems, and further our understanding of the stories and storytellers' place in the cultural history of their respective countries and, more broadly, in the universal human need to tell and listen to stories... The rewards of these collections are irresistible."--Rebecca K. Morrison, Independent "The new book, published by Princeton University Press, offers a fascinating insight into how the collection has changed with the times."--Nick Enoch, Mail Online "Think you know fairy tales? Be prepared for a nasty shock."--Andrew Donaldson, Rand Daily Mail "Zipes has produced the inaugural
Övrig information
Jack Zipes is the translator of The Complete Fairy Tales of the Brothers Grimm (Bantam), the editor of The Great Fairy Tale Tradition (Norton), and the author of Grimm Legacies (Princeton). He is professor emeritus of German and comparative literature at the University of Minnesota. Andrea Dezso is a visual artist who exhibits in museums and galleries worldwide and is associate professor of art at Hampshire College.
Innehållsförteckning
List of Figures xv Acknowledgments xvii Introduction: Rediscovering the Original Tales of the Brothers Grimm xix Note on the Text and Translation xlv VOLUME I PREFACE TO VOLUME I 3 1. The Frog King, or Iron Henry (Der Froschkonig oder der eiserne Heinrich) 13 2. The Companionship of the Cat and Mouse (Katz und Maus in Gesellschaft) 16 3. The Virgin Mary's Child (Marienkind) 17 4. Good Bowling and Card Playing (Gut Kegel-und Kartenspiel) 21 5. The Wolf and the Seven Kids (Der Wolf und die sieben jungen Geisslein) 23 6. The Nightingale and the Blindworm (Von der Nachtigall und der Blindschleiche) 25 7. The Stolen Pennies (Von dem gestohlenen Heller) 26 8. The Hand with the Knife (Die Hand mit dem Messer) 26 9. The Twelve Brothers (Die zwolf Bruder) 27 10. Riffraff (Das Lumpengesindel) 32 11. Little Brother and Little Sister (Bruderchen und Schwesterchen) 34 12. Rapunzel (Rapunzel) 37 13. The Three Little Men in the Forest (Die drei Mannlein im Walde) 40 14. Nasty Flax Spinning (Von dem bosen Flachsspinnen) 42 15. Hansel and Gretel (Hansel und Gretel) 43 16. Herr Fix-It-Up (Herr Fix und Fertig) 49 17. The White Snake (Die weisse Schlange) 53 18. The Journey of the Straw, the Coal, and the Bean (Strohhalm, Kohle und Bohne auf der Reise) 55 19. The Fisherman and His Wife (Von den Fischer und siine Fru) 56 20. A Story about a Brave Tailor (Von einem tapfern Schneider) 62 21. Cinderella (Aschenputtel) 69 22. How Some Children Played at Slaughtering (Wie Kinder Schlachtens mit einander gespielt haben) 77 23. The Little Mouse, the Little Bird, and the Sausage (Von dem Mauschen, Vogelchen und der Bratwurst) 79 24. Mother Holle (Frau Holle) 81 25. The Three Ravens (Die drei Raben) 83 26. Little Red Cap (Rothkappchen) 85 27. Death and the Goose Boy (Der Tod und der Ganshirt) 88 28. The Singing Bone (Der singende Knochen) 89 29. The Devil with the Three Golden Hairs (Von dem Teufel mit drei goldenen Haaren) 92 30. Little Louse and Little Flea (Lauschen und Flohchen) 97 31. Maiden without Hands (Madchen ohne Hande) 99 32. Clever Hans (Der gescheidte Hans) 103 33. Puss in Boots (Der gestiefelte Kater) 110 34. Hans's Trina (Hansens Trine) 115 35. The Sparrow and His Four Children (Der Sperling und seine vier Kinder) 116 36. The Little Magic Table, the Golden Donkey, and the Club in the Sack (Von dem Tischgen deck dich, dem Goldesel und dem Knuppel in dem Sack) 119 37. The Tablecloth, the Knapsack, the Cannon Hat, and the Horn (Von der Serviette, dem Tornister, dem Kanonenhutlein und dem Horn) 126 38. Mrs. Fox (Von der Frau Fuchsin) 129 39. The Elves (Von den Wichtelmannern) 132 About the Shoemaker for Whom They Did the Work (Von dem Schuster, dem sie die Arbeit gemacht) 132 About a Servant Girl Who Acted as Godmother (Von einem Dienstmadchen, das Gevatter bei ihnen gestanden) 133 About a Woman Whose Child They Had Exchanged (Von einer Frau, der sie das Kind vertauscht haben) 133 40. The Robber Bridegroom (Der Rauberbrautigam) 135 41. Herr Korbes (Herr Korbes) 137 42. The Godfather (Der Herr Gevatter) 138 43. The Strange Feast (Die wunderliche Gasterei) 141 44. Godfather Death (Der Gevatter Tod) 142 45. The Wandering of Thumbling, the Tailor's Son (Des Schneiders Daumerling Wanderschaft) 143 46. Fitcher's Bird (Fitchers Vogel) 146 47. The Juniper Tree (Van den Machandel-Boom) 148 48. Old Sultan (Der alte Sultan) 158 49. The Six Swans (Die sechs Schwane) 159 50. Briar Rose (Dornroschen) 162 51. The Foundling (Vom Fundevogel) 165 52. King Thrushbeard (Konig Drosselbart) 167 53. Little Snow White (Sneewittchen [Schneeweisschen]) 170 54. Simple Hans (Hans Dumm) 178 55. Rumpelstiltskin (Rumpelstilzchen) 181 56. Sweetheart Roland (Der liebste Roland) 182 57. The Golden Bird (Vom goldenen Vogel) 185 58. Loyal Godfather Sparrow (Vom treuen Gevatter Sperling) 191 59. Prince Swan (Prinz Schwan) 194 60. The Golden Egg (Das Goldei) 197 61. The Tailor Who Soon Became