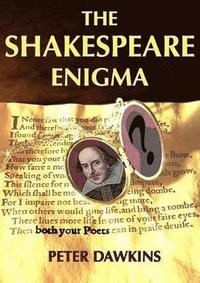 Fler böcker inom
Format

Häftad (Paperback / softback)

Språk

Engelska

Antal sidor

480

Utgivningsdatum

2004-05-01

Förlag

Illustrationer

Illustrations, ports.

Dimensioner

244 x 174 x 27 mm

Vikt

872 g

Antal komponenter

1

ISBN

9780954538941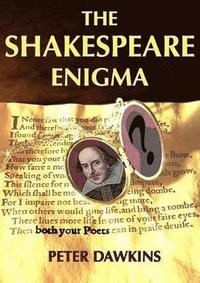 The Shakespeare Enigma
Unravelling the Story of the Two Poets
Specialorder (osäker tillgång). Skickas inom 11-20 vardagar.

Gratis frakt inom Sverige över 199 kr för privatpersoner.
The authorship of Shakespeare's plays has been the subject of endless debate through the ages. In his groundbreaking new book Peter Dawkins the internationally renowned author lecturer and Shakespearean scholar sheds new light on the many lingering questions about Shakespeare and his extraordinary works. His detailed research into Shakespeare's life and works his contemporaries and the more secret history of his time leads him inexorably to surprising conclusions. Unravelling the code and symbolism contained within the works is a fascinating voyage of discovery that reads like an Elizabethan political thriller. THE SHAKESPEARE ENIGMA contains new insights into the plays and poems and into the English Renaissance that followed the final break with Rome. Topics covered include: * Why did Shakespeare refer to himself as both your poets in sonnet 83? Are there really two poets two Shakespeares? * Why did contemporaries question the identity of the actor William Shakespeare as the author William Shakespeare and why is it still being questioned now? * Evidence from the plays shows that Shakespeare was widely travelled educated at Cambridge a lawyer and member of Gray's Inn a member of the royal court a parliamentarian and statesman and an expert on classical mythology and philosophy. The Shakespeare Monument at Stratford-upon-Avon declares that the author was like Nestor (a judge and statesman) Socrates (a philosopher) and Virgil (a scholar-poet). Strangely enough the actor William Shakespeare was none of these. So who wrote the plays and poems?
Passar bra ihop
+
Recensioner i media
SEIZING THE ENIGMA Dawkins, Peter. The Shakespeare Enigma: Unraveling the Story of the Two Poets. Polair Publishing, 2004. 477 pp. On the first Art page of The New York Times, August 21, 2004, in a lengthy article, To Be or Not to Be Shakespeare, culture editor William S. Niederkorn observes, "In England, the ridicule invariably heaped on those who suggest that Shakespeare was someone other than the venerated Stratford-on-Avon native is usually enough to stifle discussion of the subject. But now, a high-profile program forum for study of the authorship question has emerged right at Shakespeare's Globe, that nucleus of Shakespeare performance and education in London modeled on the renowned theater where the author's plays were produced and performed in his lifetime." Niederkorn notes that a page in the play programs is devoted to "The Authorship Question" and mentions Mary Sidney, Countess of Pembroke; William Stanley, the Sixth Earl of Derby; Edward de Vere, the 17th Earl of Oxford; Francis Bacon, Viscount St. Albans; and Christopher Marlowe. "We each have a different idea of who Shakespeare was" the programs say. "Whoever you imagine him to be, you are most welcome here." Niederkorn's interesting article resulted from publication of Dawkins' book, which updates the theory that Bacon was the main author of the Shakespearian plays. Dawkins, an advisor to the Globe, is helping to lead a series of seminars there on the plays of the 2004 season. According to Dawkins, this book goes further than anything published to date, to answer the question, "Who Wrote Shakespeare." Despite a huge wealth of academic study, the explanation that an actor from the rural town of Stratford-upon-Avon, with a very ordinary education and no experience of the court, the continent, the law or the seats of learning could have written plays displaying such erudition and inside knowledge has become not more but less tenable. And Dawkins believes that while the authorship question remains unanswered, it will change when "the wealth of evidence provided by his new book is carefully examined." Dawkins' thesis is backed by Mark Rylance, who wrote the book's introduction and is an actor, director, and artistic director of the Globe and leads its authorship explorations. The book is similar to a detective story in its concise presentation of details and Dawkins believes it will appeal to all literary-minded people, those interested in esoteric wisdom and anyone involved in education. Through his illuminating and extensive study of the plays and the hints they contain about the author, Dawkins guides readers down a fascinating trail, following clues that the writer himself may have wanted readers to uncover. One example is the curious phrase, "both your poets" in Sonnet 83, (who can they be and why should there be two of them?) and along with such conundrums this is discussed on a number of levels. At least two chapters in this hefty tome deal with ciphers. Chapter 12, A Rosicrucian Treasure Trail, devotes several pages to Cipher Experts and Cabalists; The Great Cipher book, which refers to several early works on cryptology including Steganographia by Trithemius, Della Porta's De Furtive Literarum, Blaise de Vigenere's Traicte de Chiffres, and Cryptomenitices et Cryptographiae by Fustavus Selenus; and the Double-A, which refers to "one of the most famous a hieroglyphs' that was used in books from 1577 onwards." Chapter 13, Confirmations in Cipher, includes: Ciphers, which highlights several examples of ciphers in the Shakespeare Folio and elsewhere; plus Cipher Signatures in the Shakespeare Folio; and the interesting Honorificabilitudinitatibus. Dawkins' study of who is the rightful author of Shakespeare's plays deserves your attention because it is an entertaining and educational work you will enjoy, even if you disagree with him. To complete his excellent book, Dawkins provid
Övrig information
Peter Dawkins practised as an architect for ten years in both England and Scotland before devoting himself full-time to research and educational work in connection with the world's wisdom traditions, mythology and earth mysteries. Since 1979 he has been giving seminars, lectures, workshops and summer schools in many countries, and leading wisdom tours and geomantic pilgrimages world-wide. He has given special Wisdom of Shakespeare seminars and workshops for over twenty years, and is an advisor to actors and directors, including the Shakespeare Globe Theatre in London where, since 1997, he has been giving Wisdom of Shakespeare events with Mark Rylance, the Globe's Artistic Director and leading actor. His many publications include an ongoing series on The Wisdom of Shakespeare in each Shakespeare play, a description of Francis Bacon's great but semi-secret 'Rosicrucian' scheme, entitled Building Paradise, and an introduction to Zoence, entitled Zoence, Science of Life. His latest book is The Shakespeare Enigma, an in-depth investigation of the extraordinary mystery associated with the authorship of the Shakespeare works.
Innehållsförteckning
Foreword by Mark Rylance Introduction 1. The star of poets 2. The actor 3. Two Shakespeares? 4. The treasure trail 5. Shakespeare as a nom-de-plume 6. The evidence of the plays 7. The author 8. The great artist 9. Merry tales 10. Darkness and light 11. The Shakespeare team 12. A Rosicrucian treasure trail 13. Confirmations in cipher 14. 'Both your poets' Notes on the text List of illustrations Further information and bibliography Index