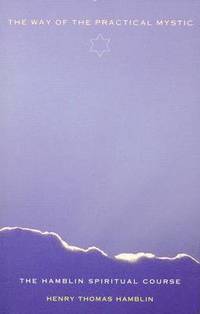 Fler böcker inom
Format

Häftad (Paperback / softback)

Språk

Engelska

Antal sidor

250

Utgivningsdatum

2004-06-01

Förlag

Dimensioner

217 x 169 x 24 mm

Vikt

517 g

Antal komponenter

1

ISBN

9780954538958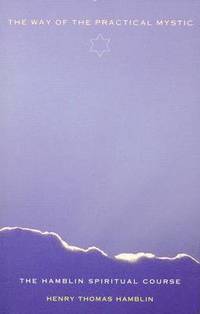 The Way of the Practical Mystic
(Was Hamblin Course in Mysticism)
Skickas inom 5-8 vardagar.

Gratis frakt inom Sverige över 199 kr för privatpersoner.
"The Way Of The Practical Mystic" is an astonishing rediscovery: a full-scale spiritual course in twenty-six lessons by one of the great figures in New Thought from the last century. Timeless in application, as relevant today as ever; it is the most complete guide to the art of living itself. Henry Thomas Hamblin was the populariser of 'applied right thought'. He teaches that we control our lives by our own thoughts, and we have responsibility to use that remarkable power for the good of all. Each of us can develop subtler, intuitive abilities and become more sensitive to the profound richness of life. The way to bring about the lasting creation of good is completely in accord with both the Christian way and the principles of New Age thought. The use of affirmations in realising abundance and harmony is described here with clarity. There is a new look at prayer, in the book, and Hamblin describes a threefold path towards successful self-realization. "The Way Of The Practical Mystic" is suitable for the religiously-minded of all persuasions, and is particularly helpful for those who wish to look in and beyond the Christian tradition. The words of Saint Matthew, 'Therefore if thine eye be single, thy whole body shall be full of light', sum up the philosophy.
Passar bra ihop
+
Fler böcker av Henry Thomas Hamblin
Dr Editor Robert C Worstell, Henry Thomas Hamblin
Recensioner i media
"Now these lessons are once again available, the process of unfolding their depth will be a tremendous blessing to all who read and study them. " Jim Pym, New Vision
Övrig information
Henry Thomas Hamblin (1873-1958) Founder of The Science of Thought Review Henry Thomas Hamblin was born at Walworth, London in 1873. Born into a poor family, he was determined to emerge from the rut which everyone was destined to fall into without being able to afford proper school and training. After a difficult start working in various jobs and being in debt he decided to become an Optician. Despite lack of money and poor prospects, his determination won him through and he qualified. Known then as the famous Optician, Theodore Hamblin was founder of the well known shop in Wigmore street. He was first and foremost a successful business man. But far from making him happy, his success gave him a growing sense of depression. It was as if something lay inside him that had not yet found a voice. All through his life Hamblin had experienced visionary experiences where he came in contact with a Divine Presence : " ... It is not possible to describe such an experience," he wrote. " All care, anxiety and fear vanished, and I felt that I was cradled in Divine Love... The deep peace of the Eternal flowed through me like a river; yet at the same time it was as though I was being carried along on a stream of Divine Bliss..." Yet, in the heat of his success, not only did these visions stop, but he became haunted by night terrors. Night after night he would waken to the feeling that he was in hell. And the sense of wrong in him deepened, until finally he was forced to give up his business and retire to the country. The nightmares stopped immediately. But the sudden and unexpected death of his ten-year-old-son was to effect him more than his nocturnal experiences. He realised that none of his world success had made him happy. This time he knew he had to give that unexpressed part of him a voice. Although he had been brought up in a very religious family, he hadn't found any of the answers he wanted in the church. He realised that, rather than following, any creed or dogma which didn't work for him anyway, he had to look within himself. Once again, he made contact with the 'Presence'. And realised it held the key to the peace he was searching for. All the time his search was leading him nearer to discovering the way his thoughts affected his performance and outlook. It was around the early1920's that he began to write. The words seemed to flow from him. He found writing clarified his thoughts. One of his first books written in this new phase of his career was Within You Is The Power, which was to sell over 200,00 copies. Hamblin believed that there is a source of abundance within which, when contacted, could change a person's entire life. As long as people blamed their circumstances they were stuck in the 'victim role', but if they moved in harmony with their inner source their life could be full of abundance and harmony. Soon after this Hamblin was to set up a magazine based on the principle of Applied Right Thinking, The Science of Thought Review. Again he wasn't discouraged by the fact that he had no experience of editing or publishing. His experience had taught him that if the mind worked in harmony with the Divine, then everything you needed flowed towards you. Anyone with any business sense at all, knew that to set up a magazine with a first print run of 10,000 copies would be a risky thing to do. But Hamblin was to take many risks and he wanted to put what he believed into practise. Because in the 1920's The Science of Thought Review was the only one of its kind in existence, its readership soon caught on and became worldwide. Among his friends and contemporaries that were to contribute to the magazine were Joel Goldsmith, Henry Victor Morgan, Graham Ikin, Clare Cameron and Derek Neville, all of them prolific and successful writers and mystics. Henry Thomas Hamblin worked right up to the end of his life in 1958 and left a legacy that is still continuing today, its voice as much needed today as it ever wa
Innehållsförteckning
Foreword Publisher's Note General Advice Before Starting the Course Week One The Silence Lesson I : The Silence Week Two Faith Lesson II : Faith Week Three Infinite Power Lesson III : The Power Week Four Choosing an Ideal Lesson IV : The Ideal Week Five Visualization Lesson V : Vision, Visualizing and Mental Picturing of the Ideal Week Six Thought-Control Lesson VI : The Subconscious Mind and Thought-Control Week Seven No Evil in the Plan Lesson VII : No Evil in the Divine Plan of your Life Week Eight Affirmations and Denials Lesson VIII : The Philosophy of Denials Week Nine Wholeness Lesson IX : How to Bring the Infinite Good into Expression Week Ten Transmutation Lesson X : The Transmutation or Reversal of Thought Week Eleven Character and Habit Lesson XI : Character Building and the Overcoming of Habit Week Twelve Superconsciousness Lesson XII : The Superconscious Mind Week Thirteen What is Reality? Lesson XIII : Apprehending Reality Week Fourteen Oneness Lesson XIV : The Oneness of Life and the Universe: Service, Love Week Fifteen Justice Lesson XV : Infinite Justice and Divine Principle Week Sixteen Manifesting Health Lesson XVI : How to Manifest Health Week Seventeen How to Help Others Lesson XVII : Healing --Interlude-- Threefold Being Lesson XVIIa : The Law of Vibration, Polarity and Mental Alchemy Week Eighteen Success Lesson XVIII : How to be Successful Week Nineteen Abundance Lesson XIX : How to Partake of the Infinite Abundance Week Twenty Life is Good Lesson XX : How to Overcome Circumstances Week Twenty-One Transformation Lesson XXI : How to Overcome Hate and Transform the Life with Love Week Twenty-Two Overcoming Fear Lesson XXII : The Overcoming of Fear, Worry and Care Week Twenty-Three Overcoming Grief Lesson XXIII : The Overcoming of Grief and Sorrow Week Twenty-Four Spiritual Experience Lesson XXIV : Using the Inner Mind Week Twenty-Five The Old Nature Slain, we become New Creatures Lesson XXV : Finding the True Self Week Twenty-Six Conclusion Lesson XXVI : Conclusion Biblical References