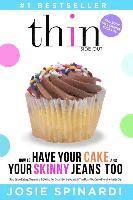 Fler böcker inom
Format

Häftad (Trade Paper)

Språk

Engelska

Antal sidor

220

Utgivningsdatum

2014-12-01

Förlag

Dimensioner

227 x 153 x 11 mm

Vikt

308 g

Antal komponenter

1

ISBN

9780988954410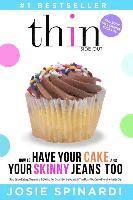 How to Have Your Cake and Your Skinny Jeans Too: Stop Binge Eating, Overeating and Dieting For Good, Get the Naturally Thin Body You Crave From the In
Skickas från oss inom 3-6 vardagar.

Fri frakt över 199 kr för privatkunder i Sverige.
YOU ABSOLUTELY CAN STOP BINGE EATING (OR FEELING OUT OF CONTROL WITH FOOD) AND BE THIN! You are about to finally uncover the single reason why you've been experiencing such an uphill battle with food and your weight. And far more importantly...I am going to teach you the skills you need to win the food fight once and for all--without dieting. If you're looking for a real, proven, step-by-step solution to stop overeating and binge eating for good--so you can finally get thin and get on with your amazing life--then this book is for you.Is food your best friend--and your worst enemy? Are you stuck in a relentless tug-of-war between wanting (desperately) to lose weight, and the out-of-control urge to eat? Does your firm morning resolve to "be good" with food consistently crumble into a night of takeout on the couch, watching TV with Ben & Jerry? Do you love food, but at the same time, part of you hates it with a passion, and would be perfectly happy if you never ate again--if it just meant you could finally be thin? Let me come right out and say it. It's not you! There are clear-cut, solvable reasons why your eating currently feels frustrating and at times painfully out of control.You've simply been trying to solve the problem (excess weight and overeating) with a solution (dieting and exercise) that does nothing to resolve the real reasons you feel so out of control with food. The problem is not your lack of nutritional knowledge. Knowing how many calories (or carbs!) are in a thick, fudgy brownie does absolutely nothing to equip you with the skills to stop binge eating it after a long, hard day at work. Are you going to scream if another weight loss book tells you to "take a bath" instead of binge eating? Overeating and binge eating are learned behavioral patterns that can be eradicated once you learn a few simple--actionable--psychological skills.And NOT the type of "fluff psychology" you find in most emotional eating books that advise you to "take a walk," "read a book," or "take a warm bath" when you feel the urge to overeat. Really? That advice is absolutely useless. (And maddening!) As if when you're in that pre-binge frenzy, parked outside the mini-mart tearing into a bag of chips and a box of donuts, you're going to hear that advice and say, "Wow, why didn't I think of that? I'll put down these salty, grease glistening chips and thick, chocolate frosteddonuts and head home to read Pride and Prejudice." Not so much. The solution to binge eating and overeating is found in step-by-step, research based, learn-able skills that prevent and eliminate overeating on the spot. The skills (you'll be happy to know) do not include deprivation or willpower. Since willpower and deprivation don't actually work. I mean, if they did work to yield lasting weight loss we wouldn't be having this conversation right now. Right? Find out exactly why your best weight loss efforts have failed in the past--and more importantly, exactly what you can do to change it. Today.Learn how to eliminate the single behavior that 70 years of scientific research proves causes overeating, binge eating, and feeling out of control with food.Uncover the secret to being able to keep any food in your house--without it calling your name.Discover the two keys that make it a cinch to stop eating any food when you've had enough (even chocolate cake or a cheeseburger!).How to Have Your Cake and Your Skinny Jeans Too is Josie at her best--sharing her remarkable insights, her warm, disarming signature wit, and her research-based Hunger Directed Eating techniques that result in quick and lasting change. This is the first book in a groundbreaking series. Join the women and men around the world who are finally enjoying peace and ease with food.
Passar bra ihop
+