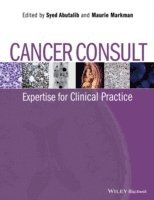 Fler böcker inom
Format

Häftad (Paperback / softback)

Språk

Engelska

Antal sidor

968

Utgivningsdatum

2014-08-22

Upplaga

1

Förlag

Medarbetare

Abutalib, Syed A. (ed.), Markman, Maurie (ed.)

Illustrationer

black & white halftones, figures

Dimensioner

279 x 216 x 41 mm

Vikt

2429 g

Antal komponenter

1

ISBN

9781118589212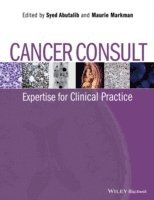 Cancer Consult
Expertise for Clinical Practice
Skickas från oss inom 7-10 vardagar.

Fri frakt över 199 kr för privatkunder i Sverige.
Finns även som
Läs i DRM-kompatibel e-boksläsare.

Läs i DRM-kompatibel e-boksläsare.
The field of oncology benefits from several large-scale reference books and a host of monographs dedicated to specific cancers. However, truly excellent practice and review books are, surprisingly, quite scarce. Outside of a scant handful of books and online reference tools that offer clinical response practice and board review in a basic question and answer format, there are no resources that offer a robust, engaging, fully referenced tool for these vital activities in every oncologist's and oncology trainee's work. This print and electronic book seeks to fill that void, offering comprehensive question-and-answer style content that covers the entire specialty of oncology and provides practicing oncologists with a fascinating and immediately applicable compendium of vital information dealing with a well-balanced selection of common and uncommon cancers. At the heart of this book is the editor's and authors' desire to overcome the controversies and barriers to practice that usually emerge following the appearance of new data. In every section, the user is guided toward collaboration in ongoing clinical research - for example, via discussions of well-designed ongoing clinical trials in each specific area. Developed with both the teacher and learner in mind, this book also offers trainees and fellows an excellent opportunity to enhance their preparation for the ABIM oncology fellowship exam as well as for the oncology boards. It will also be an extremely useful tool for oncologists working toward the recertification exam. This comprehensive, beefy book includes hundreds of painstakingly developed multiple-choice and mini-case-based questions covering the principles of medical oncology, malignant hematology, surgical oncology, and radiation oncology. It also contains mini-cases and questions dealing with the biology, diagnosis, classification, staging, and multidisciplinary treatment of cancers at every anatomic site. The very latest topics are included, such as molecular techniques, targeted therapies, and translational cancer research. Concise but detailed answers are referenced to key journals and books, and evidence-based wherever possible. NCCN guidelines are also referenced as appropriate. With its powerful focus on take-home messages from and for actual clinical work, this book will help keep oncologists up to date, bridging the gaps between journal and reference literature, conferences, and their existing knowledge base.
Passar bra ihop
+
Fler böcker av författarna
Övrig information
Syed A. Abutalib, MD, is Assistant Director for Stem Cell Transplantation at the Chicago-area branch of Cancer Treatment Centers of America, or CTCA. CTCA is a group of five private treatment centers in the USA focused on patient care in oncology. For several years now, Dr. Abutalib has authored the very popular and well-received "Clinical Conundrums" feature in the oncologist tabloid paper Clinical Oncology (McMahon Publishing), and this is where the idea came to him to enhance and expand his concept from that experience into this book. Maurie Markman, MD, is Senior Vice President of Clinical Affairs and National Director of Medical Oncology at Cancer Treatment Centers of America (CTCA). A nationally-renowned oncologist, Dr. Markman has more than 20 years of experience in cancer treatment and gynecologic research at some of the country's most recognized facilities. Dr. Markman has served as the Vice President for Clinical Research and Chairman of the Department of Gynecologic Medical Oncology at M.D. Anderson Cancer Center in Houston, Texas. Prior to that, Dr. Markman spent 11 years as Chairman of the Department of Hematology/Oncology and Director of the Taussig Cancer Center at the Cleveland Clinic Foundation. He also spent five years as Vice Chairman of the Department of Medicine at Memorial Sloan-Kettering Cancer Center in New York.
Innehållsförteckning
List of Contributors, x Preface, xxi Section 1 Malignant Hematology and Hematopoietic Cell Transplantation Part 1 Acute Lymphoblastic Leukemia in Adults 1 Diagnosis of acute lymphoblastic leukemia, 5 Frederick G. Behm, Agatha Bogard, Syed A. Abutalib, and Sujata S. Gaitonde 2 Prognostic markers and models in acute lymphoblastic leukemia, 18 Dieter Hoelzer 3 Management of B-cell acute lymphoblastic leukemia, 22 Hady Ghanem, Hagop Kantarjian, Nitin Jain, and Elias Jabbour 4 Management of T-cell acute lymphoblastic leukemia, 29 Daniel J. DeAngelo 5 Minimal residual disease in acute lymphoblastic leukemia, 35 Meir Wetzler 6 Hematopoietic cell transplantation in adult acute lymphoblastic leukemia, 40 Netanel A. Horowitz and Jacob M. Rowe Part 2 Acute Myeloid Leukemia in Adults 7 Prognosis in acute myeloid leukemia: cytogenetics and beyond, 51 Gordana Raca, Madina Sukhanova, and Lucy A. Godley 8 Induction therapy in acute myeloid leukemia, 58 Tapan Kadia and Farhad Ravandi 9 Consolidation therapy in acute myeloid leukemia, 67 Gregory K. Behbehani and Bruno C. Medeiros 10 Management of acute promyelocytic leukemia, 71 Eytan M. Stein and Martin S. Tallman 11 Minimal residual disease in acute myeloid leukemia, 76 Hans Beier Ommen, Line Nederby, Marie Toft-Petersen, Charlotte Guldborg Nyvold, and Peter Hokland 12 Relapsed and refractory acute myeloid leukemia, 82 Stefan H. Faderl 13 Hematopoietic cell transplantation in acute myeloid leukemia, 89 Antonio M. Jimenez and Stefan O. Ciurea Part 3 Myelodysplastic Syndromes and Related Disorders 14 Pitfalls in the diagnosis of myelodysplastic syndromes, 99 Jay Yang, Gail Bentley, and Charles A. Schiffer 15 Cytogenetics and prognostic models in myelodysplastic syndromes, 106 Uma Borate and Harry P. Erba 16 Management of myelodysplastic syndromes, 113 Vu H. Duong, Alan F. List, and Rami S. Komrokji 17 Management of therapy-related myeloid neoplasms, 120 Jagoda K. Jasielec and Richard A. Larson 18 Hematopoietic cell transplantation in myelodysplastic syndromes, 126 Antonio Di Stasi, Armin Ghobadi, and Partow Kebriaei 19 Acquired aplastic anemia, 131 Valeria Visconte and Ramon V. Tiu Part 4 Myeloproliferative Neoplasms 20 Diagnostic approach in myeloproliferative neoplasms, 137 Ayalew Tefferi 21 Chronic myeloid leukemia: chronic phase, 142 Jerald P. Radich 22 Blast crisis of chronic myeloid leukemia, 147 Michael J. Mauro 23 Chronic myeloid leukemia and pregnancy, 150 Michael J. Mauro 24 Polycythemia vera, 152 Constantine S. Tam and Srdan Verstovsek 25 Essential thrombocytosis, 156 Paola Guglielmelli and Alessandro M. Vannucchi 26 Primary myelofibrosis, 162 Ayalew Tefferi 27 Eosinophilic myeloproliferative disorders, 167 Jason Gotlib 28 Chronic myelomonocytic leukemia, 176 Mrinal M. Patnaik 29 Hematopoietic cell transplantation in chronic myeloid leukemia, 180 Jerald P. Radich 30 Hematopoietic cell transplantation in primary myelofibrosis, 187 Irum Khan and Damiano Rondelli Part 5 Chronic Lymphocytic and Other Leukemias 31 Prognostic markers and management of chronic lymphocytic leukemia, 195 Courtney D. DiNardo and Susan O'Brien 32 Hematopoietic cell transplantation in chronic lymphocytic leukemia, 201 Michael R. Bishop 33 Prolymphocytic leukemia, 207 Claire Dearden 34 Hairy cell leukemia, 220 Justin M. Watts and Martin S. Tallman Part 6 Hodgkin Lymphoma 35 Management of classical Hodgkin lymphoma, 229 Kristen Sanfi lippo and Nancy L. Bartlett 36 Nodular lymphocyte-predominant Hodgkin lymphoma, 235 Dennis A. Eichenauer 37 Hematopoietic cell transplantation in Hodgkin lymphoma, 240 Tsiporah Shore and Koen van Besien Part 7 Non-Hodgkin's Lymphomas 38 Pitfalls in the diagnosis of non-Hodgkin's lymphomas, 247 Carmen Barcena and Laurence de Leval 39 Follicular lymphoma, 257 Myron S. Czuczman 40 Diffuse large B-cell lymphoma, 263 Andrew D. Zelenetz 41 Mantle cell