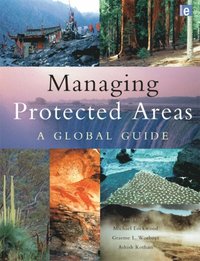 Fler böcker inom
Format

E-bok

Filformat

EPUB med Adobe-kryptering
Om Adobe-kryptering

Nedladdning

Kan laddas ned under 24 månader, dock max 6 gånger.

Språk

Engelska

Antal sidor

832

Utgivningsdatum

2012-05-04

Förlag

Illustrationer

illustrations

ISBN

9781136561757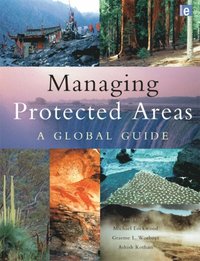 Managing Protected Areas
E-bok
A Global Guide
Finns även som
Läs i DRM-kompatibel e-boksläsare.

Skickas inom 11-20 vardagar (specialorder)

Skickas inom 3-6 vardagar
This handbook, produced by world renowned experts from the World Conservation Union (IUCN), spans the full terrain of protected area management and is the international benchmark for the field. The book employs dozens of detailed international cases studies, hundreds of concise topical snapshots, maps, tables, illustrations and a colour plate section, as well as evaluation tools, checklists and numerous appendices to cover all aspects of park management from biodiversity to natural heritage to financial management. The book establishes a conceptual underpinning for protected area management, presents guiding principles for the 21st century, reflects recent work on international best practice and provides an assessment of skills required by professionals. As the most authoritative guide ever compiled to the principles and practice of protected area management, this volume is essential for all professionals and students in all countries and contexts.
Fler böcker av författarna
Ashish Kothari, Ariel Salleh, Arturo Escobar, Ashish Kothari, Federico Demaria
Recensioner i media
'The case studies offer a rich resource of cutting edge practice.' Environmental Conservation, Volume 34/4 - 2008 'Congratulations to the editors of this monumental publication! It brings together the mass of material that was brought to the 2003 IUCN World Parks Congress held in Durban, South Africa, organizes it and makes it accessible to a world wide audience. It offers a succinct synthesis of the context for protected areas management, while the principles and practise are set out in detail and across a wide front that will be relevant in every country. Protected area managers and others interested in the practice of conservation will find it an invaluable resource. It will no doubt stand as the standard global reference book on the topic for many years.' Adrian Phillips, Chair of the IUCN World Commission on Protected Areas, 1994-2000 'With the potential impacts of climate change, global tourism and biodiversity loss the need for professional park management has never been greater. I commend the editors, authors and IUCN for achieving this book. There is no doubt that this book will be the guiding international text for protected area management for the future' Bruce Leaver, First Assistant Secretary, Parks Australia and Former Director, South Australian National Parks and Wildlife Service 'The torch has been passed to a new team of park planners and managers who offer fresh approaches drawn from recent decades of experience...on how protected areas can serve humanity while conserving nature in a rapidly changing world through the application of modern science, international cooperation and community engagement.' Dr Kenton Miller, former Chair, IUCN World Commission on Protected Areas, and Vice President emeritus, World Resources Institute. 'A first-ever synthesis that brings together state-of-the art thinking from around the world on the complex business of managing protected areas' Future Survey 'It could well remain somewhere near the corner of the desk for academic and practising environmentalists and policy makers.' Malcolm Newson 2007, Department of Geography, Newcastly University. Journal of Environmental Planning and Management. 'This richly illustrated, principled but pragmatic, book is a very welcome contribution to that next stage.' Malcolm Newson 2007, Department of Geography, Newcastly University. Journal of Environmental Planning and Management. 'Managing Protected Areas provides a balance view across continents, nations and environments and brings together state-of-the-art thinking from around the world on the complex business of managing protected areas.' '[Managing Protected Areas] can be considered as an important reference, and a source book of ideas, models, case studies and approaches from around the world.' Vladica Stjepanovi-Siveev, International Journal of Environment and Pollution 'Ce livre est riche d'informations, riche de stimulations ? la r?flexion, fondamentalement s?rieux, nous l'avons dit, mais agr?able ? la lecture. Il m?rite de trouver place dans la biblioth?que du curieux mais aussie du responsable politiqu ou ?ducatif et ferait un remarquable object d'?tudes dans un programme d'enseignement.' Revue des Questions Scientifiques.
Övrig information
Michael Lockwood has over 25 years' experience as an environmental practitioner and academic. He teaches and researches protected area management at the University of Tasmania, Australia. Graeme L. Worboys has over 33 years' protected area management experience and is Vice-Chair (Mountains Biome) for the IUCN World Commission on Protected Areas (WCPA) and a member of the WCPA steering committee Ashish Kothari has worked and published on conservation issues for 27 years, with emphasis on the relations between communities and biodiversity, and he is co-chair of ICUN's intercommission Theme of Indigenous and Local Communities, Equity, and Protected Areas.
Innehållsförteckning
Part I - Setting the Context * Natural Heritage * Social Context * Global Protected Area Framework * Values and Benefits * Governance of Protected Areas * Process of Management * Developing Capacity * Part II - Principles and Practice * Establishing Protected Areas * Threats to Protected Areas * Obtaining, Managing and Communicating Information * Management Planning * Finance and Economics * Managing Staff, Finances and Assets * Sustainability Practice and Sustainable Use * Operations Management * Natural Heritage Management * Cultural Heritage Management * Incident Management * Tourism and Recreation * Collaboratively Managed Protected Areas * Community Conserved Areas * Linking the Landscape * Marine Protected Areas * Evaluating Management Effectiveness * Building Support for Protected Areas * Challenges and Opportunities Part III - Appendices