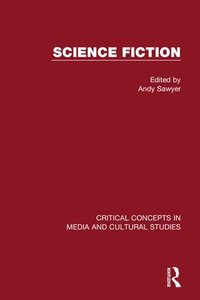 Fler böcker inom
Format

Mixed media product

Språk

Engelska

Antal sidor

1496

Utgivningsdatum

2020-11-23

Förlag

Illustrationer

2 Tables, black and white; 1 Halftones, black and white; 1 Illustrations, black and white

Antal komponenter

4

Komponenter

Contains 4 hardbacks

ISBN

9781138676947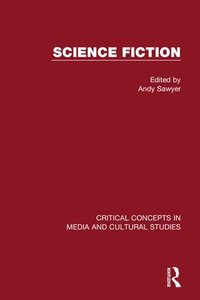 Science Fiction
Skickas från oss inom 10-15 vardagar.

Fri frakt över 199 kr för privatkunder i Sverige.
Given that science fiction, in its many forms and genres, engages in sometimes serious speculation about science, history, and all types of social relations, and that its recurrent themessuch as the concept of the alien, alternative identities, and the role of technologychime with so many contemporary anxieties and concerns, it is perhaps no surprise that as early as 1960 Kingsley Amis was able to remark (in his New Maps of Hell) that to read, and to study, science fiction are valid and interesting pursuits from any old point of view, whether literary, sociological, psychological, political, or what you will. Now, as serious academic work on science fiction continues to blossom, this new four-volume collection from Routledge meets the need for an authoritative anthology to enable users to make better sense of the subjects unwieldy body of scholarship, and the continuing explosion in research output. The four volumes have been expertly edited by Andy Sawyer of Liverpool University, home of Europes largest catalogued collection of SF material. Science Fiction is fully indexed and has a comprehensive introduction, newly written by the editor. It is an essential work of reference and will be valued by scholars and students as a vital one-stop resource.
Passar bra ihop
+
Fler böcker av Andy Sawyer
H G Wells, Brian Aldiss, Andy Sawyer

'The classic tale of alien invasion, and still the best' The TimesThe first modern depiction of extra-terrestrials attacking the earth, The War of the Worlds remains one of the most influential of all science-fiction works. It shows the whole of h...

Nickianne Moody, Andy Sawyer

This famous, strange, wild novel was first issued anonymously by the 'Prince of Puffers', the fashionable publisher Henry Colburn, as a three-volume novel in 1827. This new scholarly edition places it in its previous and contemporary con...
Innehållsförteckning
Volume 1: Discoveries; Definitions and Defence; Receptions and Redefinitions Part 1: Discoveries 1. Mary Shelley, Preface, in Frankenstein (Lackington, Hughes, Harding, Mavor & Jones, Finsbury Square, 1818), p. 1-2. 2. Mary Shelley, Introduction, in Frankenstein (London: Colburn and Bentley, 1831), pp. 3. Walter Scott, Review of Frankenstein, Blackwoods 2, 12, March 1918, pp. 613-620. 4. Brian Aldiss, Mary Shelley, extract in Billion Year Spree: The History of Science Fiction (London: Weidenfeld and Nicholson, 1973), pp. 20-30. 5. Jane Webb, Introduction, in The Mummy! (London: Henry Colburn, 1827), pp. iii-viii. 6. Felix Bodin, Preface, in The Novel of the Future trans. by Brian Stableford (Encino, CA: Black Coat Press 2008[1834], pp. 31-41. 7. William Wilson, A Little Earnest Book Upon a Great Old Subject (London: Darton & Co, 1851), pp. 131-147. 8. Brian M. Stableford, William Wilsons Prospectus For Science Fiction: 1851 Foundation 10, June 1986, pp. 6-12 9. Dorothy Scarborough, Supernatural Science, in The Supernatural in Modern English Fiction (New York: Putnam's, 1917), pp. 251-80. Part 2: Definitions and Defence 10. Hugo Gernsback A New Sort of Magazine, editorial in Amazing Stories 1, 1, April 1926, p. 3. 11. Hugo Gernsback The Lure of Scientifiction, Amazing Stories 1, 3, June 1926, p. 195. 12. Hugo Gernsback Science Fiction Week, Science Wonder Stories 1, 12, May 1930, p. 7. 13. Gary Westfahl "An Idea of Significant Import:": Hugo Gernsbacks Theory of Science Fiction, Foundation 48, 1994, pp. 26-50. 14. H. G. Wells, Preface, in The Scientific Romances of H. G. Wells (London: Victor Gollancz, 1933), pp. vii-x. 15. Clemence Dane, American Fairy Tale, The North American Review 242, 1, 1936, pp. 143-152. 16. John W. Campbell, Future Tense, Astounding Science Fiction 23, 4, June 1939, p. 6. 17. John W. Campbell, History to Come, Astounding Science Fiction 27, 3, pp. 5-7, 124-25. 18. John W. Campbell, Non-Escape Literature, Astounding Science Fiction 62, 6, Feb 1959, pp. 5-7, 161-162. 19. Robert A. Heinlein: 1941 Worldcon Speech The Discovery of the Future, in Mike Resnick & Joe Siclari (eds), Worldcon Guest of Honor Speeches (Deerfield, Ill.: ISFiC Press, 2006), pp. 13-19. 20. Robert A. Heinlein Science Fiction: Its Nature, Faults and Virtues, in Basil Davenport et al (ed.), The Science Fiction Novel: Imagination and Social Criticism (Chicago: Advent, 1964), pp. 14-48. Part 3: Receptions and Redefinitions 21. Margot Bennett Spaceships Also Leak, Lilliput 22, 3, No. 129, March 1948, pp. 43-46. 22. Hella Jaspert, The New "Science Fiction": Lush Fiction, but Queer Science, The Manchester Guardian November 7th , 1953, p. 4. 23. J. B. Priestley They Come From Inner Space, in New Statesman & Nation 5th December 1953. 24. John Wyndham, Roar of Rockets from John OLondons Weekly, 2 April 1954. 25. Tom Clareson, The Evolution of Science Fiction, Science Fiction Quarterly (August 1953), pp. 85-98 26. Kathryn Hume, 'Medieval Romance and Science Fiction: The Anatomy of a Resemblance', Journal of Popular Culture 16, 1, 1982, pp. 15-26. 27. Adam Roberts, From Medieval Romance to Sixteenth Century Utopia, in The History of Science Fiction 2nd ed. (Palgrave Histories of Literature), pp. 37-50. 28. Kingsley Amis, et. al The Establishment Must Die and RotA Discussion on Science Fiction between Kingsley Amis and C. S. Lewis, SF Horizons 1, 1964, pp. 5-12. 29. William Burroughs The Hallucinatory Operators are Real, SF Horizons 2, 1965, pp. 3-12. 30. E. J. Carnell et. Al, There Aint No Such Thing as the "New Wave"!, Speculation 2, 11, 23, July/Aug 1969, pp. 5-11 31. Colin Greenland, Footholds in the Head: Inner Space Fiction, in The Entropy Exhibition (London: