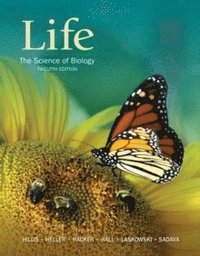 Fler böcker inom
Format

Inbunden (Hardback)

Språk

Engelska

Antal sidor

1268

Utgivningsdatum

2020-03-04

Upplaga

12nd ed. 2020

Förlag

Medarbetare

Laskowski, Marta

Illustratör/Fotograf

Illustrationer

1268 p.

Dimensioner

288 x 234 x 48 mm

Vikt

3465 g

Antal komponenter

1

Komponenter

1 Hardback

ISBN

9781319315788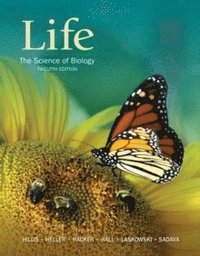 Life: The Science of Biology
Skickas från oss inom 7-10 vardagar.

Fri frakt över 199 kr för privatkunder i Sverige.
Life: The Science of Biology is engaging, active, and focused on skills The new 12th edition of Life: The Science of Biology continues to be engaging, active, and focused on teaching the skills that students need to master the majors biology course. New pedagogical features work in conjunction with powerful updates to the online suite of materials in Achieve to support the mission of Life by teaching students the skills and understanding of experimentation and data they need to succeed in introductory biology and ultimately in their future STEM careers. Life's potent combination of expertly crafted media, assessment, pedagogy and engagement makes this new edition the best resource yet for biology students.
Passar bra ihop
+
Fler böcker av författarna
Carlo Raffo, Alan Dyson, Helen Gunter, Dave Hall, Lisa Jones

Alain Anderton, Dave Hall, Carlo Raffo, Rob Jones, Jennifer Lee
Övrig information
David M. Hillis is the Alfred W. Roark Centennial Professor in Integrative Biology at the University of Texas at Austin, where he also has directed the Center for Computational Biology and Bioinformatics, the Biodiversity Center, and the School of Biological Sciences. Dr. Hillis has taught courses in introductory biology, genetics, evolution, systematics, and biodiversity. David E. Sadava is the Pritzker Family Foundation Professor of Biology, Emeritus, at the Keck Science Center of Claremont McKenna, Pitzer, and Scripps, three of The Claremont Colleges. In addition, he is Adjunct Professor of Cancer Cell Biology at the City of Hope Medical Center. Twice winner of the Huntoon Award for superior teaching, Dr. Sadava has taught courses on introductory biology, biotechnology, biochemistry, cell biology, molecular biology, plant biology, and cancer biology. H. Craig Heller is the Lorry I. Lokey/Business Wire Professor in Biological Sciences and Human Biology at Stanford University. He has taught in the core biology courses at Stanford since 1972 and served as Director of the Program in Human Biology, Chairman of the Biolo-gical Sciences Department, and Associate Dean of Research. Dr. Heller is a fellow of the American Association for the Advancement of Science and a recipient of the Walter J. Gores Award for excellence in teaching and the Kenneth Cuthberson Award for Exceptional Service to Stanford University. Sally D. Hacker is Professor at Oregon State University where she has been a faculty member since 2004. She has taught courses in introductory ecology, community ecology, invasion biology, field ecology, and marine biology. She was awarded the Murray F. Buell Award by the Ecological Society of America and the Young Investigator Prize by the American Society of Naturalists. David W. Hall is an Associate Professor of Genetics at the University of Georgia, where he was the recipient of the Sandy Beaver Excellence in Teaching Award in 2013. Recent work includes using mathematical models to address the evolution of meiotic drive, the rate and pattern of molecular evolution in social insects, and early sex chromosome evolution. In the lab, he utilizes different yeast species to study spontaneous mutations using a combination of both mutation-accumulation and adaptation experiments. Marta Laskowski is a Professor in the Biology Department at Oberlin College. Dr. Laskowski has mentored undergraduate students in research and has taught introductory biology, skills-based first year seminars (Feeding the World), plant physiology, and plant development. She heads an effort at Oberlin, funded by the HHMI Inclusive Excellence program, to enhance the climate for and success of a diverse student population in STEM.
Innehållsförteckning
Part one The Science of Life and Its Chemical Basis 1 Studying Life 2 Small Molecules and the Chemistry of Life 3 Proteins, Carbohydrates, and Lipids 4 Nucleic Acids and the Origin of Life Part two Cells 5 Cells: The Working Units of Life 6 Cell Membranes 7 Cell Communication and Multicellularity Part three Cells and Energy 8 Energy, Enzymes, and Metabolism 9 Pathways that Harvest Chemical Energy 10 Photosynthesis: Energy from Sunlight Part four Genes, Genomes, and Heredity 11 The Cell Cycle and Cell Division 12 Inheritance, Genes, and Chromosomes 13 DNA and Its Role in Heredity 14 From DNA to Protein: Gene Expression 15 Gene Mutation and Molecular Medicine 16 Regulation of Gene Expression 17 Genomes 18 Recombinant DNA and Biotechnology Part five The Processes and Patterns of Evolution 19 Processes of Evolution 20 Reconstructing and Using Phylogenies 21 Evolution of Genes and Genomes 22 Speciation 23 The History of Life on Earth Part six The Evolution of Diversity 24 Bacteria, Archaea, and Viruses 25 The Origin and Diversification of Eukaryotes 26 Plants without Seeds: From Water to Land 27 The Evolution of Seed Plants 28 The Evolution and Diversity of Fungi 29 Animal Origins and the Evolution of Body Plans 30 Protostome Animals 31 Deuterostome Animals Part seven Flowering Plants: Form and Function 32 The Plant Body 33 Transport in Plants 34 Plant Nutrition 35 Regulation of Plant Growth 36 Reproduction in Flowering Plants 37 Plant Responses to Environmental Challenges Part eight Animals: Form and Function 38 Physiology, Homeostasis, and Temperature Regulation 39 Animal Hormones 40 Immunology: Animal Defense Systems 41 Animal Reproduction 42 Animal Development 43 Neurons, Glia, and Nervous Systems 44 Sensory Systems 45 The Mammalian Nervous System 46 Musculoskeletal Systems 47 Gas Exchange 48 Circulatory Systems 49 Nutrition, Digestion, and Absorption 50 Salt and Water Balance and Nitrogen Excretion 51 Animal Behavior Part nine Ecology 52 The Physical Environment and Biogeography of Life 53 Populations 54 Species Interactions 55 Communities 56 Ecosystems 57 A Changing Biosphere