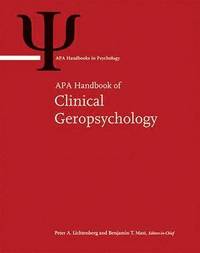 Fler böcker inom
Format

Inbunden (Hardback)

Språk

Engelska

Antal sidor

1343

Utgivningsdatum

2015-02-16

Upplaga

Two Volumes

Förlag

Medarbetare

Lichtenberg, Peter A. (ed.-in-chief)/Mast, Benjamin T. (ed.-in-chief)/Lichtenberg, Peter A. (ed.-in-chief)/Mast, Benjamin T. (ed.-in-chief)

Illustrationer

illustrations

Dimensioner

295 x 236 x 114 mm

Vikt

4000 g

Antal komponenter

1

Komponenter

Contains 1 Hardback

ISBN

9781433818042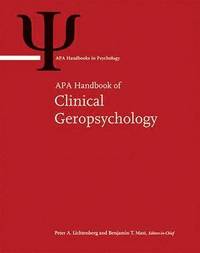 APA Handbook of Clinical Geropsychology
Volume 1: History and Status of the Field and Perspectives on Aging Volume 2: Assessment, Treatment, and Issues of Later Life
Skickas från oss inom 7-10 vardagar.

Fri frakt över 249 kr för privatkunder i Sverige.
The APA Handbook of Clinical Geropsychology offers a well-balanced scientistpractitioner approach, with chapters that succinctly review empirical research across a broad range of areas and offer practical approaches for the application of theory to everyday practice with the aging population. The handbook reviews the history of clinical geropsychology and geropsychology practice, to help the reader better understand how the field has grown over the past 30 plus years and to assess the several directions in which it is headed. Chapter authors highlight strength-based approaches to human development and aging, review the status of evidence-based treatment, explore the interface of geriatric medicine and clinical psychotherapy, review several "normal aging" areas of research, and discuss such common psychological, neurological, and other medical issues common in aging as depression, late-life anxiety disorders, schizophrenia, alcohol abuse and substance misuse, suicidal behavior, mild cognitive impairment, Alzheimer's, and many more. The reader will not only gain knowledge about foundational competencies in the field of clinical geropsychology, but will also find a treasure of information related to assessment, intervention, and consultation in this continually evolving field.
Passar bra ihop
+
Fler böcker av författarna
Recensioner i media
This two-volume set runs the gamut of geropsychology, from historical perspectives and theory to assessment and treatment. Must-reading for clinicians and researchers in the field. * Doody's Review Service *
Övrig information
Peter A. Lichtenberg, PhD, ABPP, is director of The Institute of Gerontology and the Merrill Palmer Skillman Institute. He is also a professor of psychology at Wayne State University. He received his bachelor's degree from Washington University in St. Louis, and his master's and doctoral degree in clinical psychology from Purdue University. After his internship, he completed a postdoctoral fellowship in geriatric neuropsychology at the University of Virginia Medical School, where he also became a faculty member. As a clinician and researcher throughout his career, Dr. Lichtenberg has made contributions to the practice of psychology across a variety of areas, including long-term care, medical rehabilitation with those suffering from late life depression, and age-related dementias. In 1997, he was awarded a diplomate in rehabilitation psychology, and in 2013, a diplomate in clinical geropsychology. Dr. Lichtenberg is active in research on issues related to capacity assessment, late-life depression, minority health and aging, dementia, and disability. He has written three books and edited three more and has more than 150 peer reviewed publications. His current work is focused on the intersection between financial capacity and elder justice and on finding ways to balance autonomy and protection for older adults. In 2012, he published an article on Alzheimer's disease in capacity cases and, in 2013, the first nationally representative study on predictors of older adult fraud victims. He recently created the Lichtenberg Financial Decision Making Rating Scale, a tool to be used to assess major financial decisions and transactions of older adults. Benjamin T. Mast, PhD, ABPP, is an associate professor and vice chair in the Department of Psychological and Brain Sciences at the University of Louisville. He is also an associate clinical professor in the Department of Family and Geriatric Medicine. He received his bachelor's degree from Calvin College and his master's and doctoral degree from Wayne State University. Before joining the faculty at the University of Louisville, he completed his internship at the University of Washington School of Medicine. He has been named a fellow of the Gerontological Society of America and Professional Caregiver of the Year by the Alzheimer's Association, and he has received a New Investigator Award from the American Geriatrics Society. His research, teaching, and clinical interests span a range of topics within geropsychology, including geriatric depression, evaluations of dementia syndromes, and most recently, the integration of person-centered care into the evaluation of people with dementia and other cognitive changes. He has published more than 60 papers and book chapters, as well as two books on dementia assessment and care.
Innehållsförteckning
Volume 1. History and Status of the Field and Perspectives on Aging Editorial Board About the Editors-in-Chief Contributors Series Preface Introduction Part I: Historical Perspectives Chapter 1: Historical Perspectives on Clinical Geropsychology Norman Abeles Chapter 2: Pikes Peak Conference and Competency-Based Training in Professional Geropsychology Michele J. Karel, Victor Molinari, Erin E. Emery-Tiburcio, and Bob G. Knight Chapter 3: Evolutions and Revolutions in Medicare Policy and Reimbursement of Geropsychology Services Margaret P. Norris Part II: Geropsychology Today Chapter 4: Geropsychology in Interprofessional Teams Across Different Practice Settings Kelly O'Shea Carney, Amber M. Gum, and Antonette M. Zeiss Chapter 5: Evidence-Based Treatments and Their Status in Geropsychology Forrest Scogin and Lisa Mieskowski Chapter 6: Research Trends in Geropsychology George Niederehe Chapter 7: Ethics in Geropsychology: Status and Challenges J. Ray Hays and Floyd L. Jennings Part III: Normal Aging Chapter 8: Cognitive Aging and Cognitive Training Sherry L. Willis and Julie Blaskewicz Boron Chapter 9: Personality Development Across the Life Span: Theory, Research, and Application Paul W. Griffin, Daniel K. Mroczek, and Kristen Wesbecher Chapter 10: Emotion and Emotion Regulation Susan T. Charles and Jennifer W. Robinette Chapter 11: Social Perspectives: Support, Social Relations, and Well-Being Neal Krause and R. David Hayward Chapter 12: Positive Aging: At the Crossroads of Positive Psychology and Geriatric Medicine Robert D. Hill and Derek J. Smith Chapter 13: Successful, Optimal, and Resilient Aging: A Psychosocial PerspectiveCarolyn M. Aldwin and Heidi Igarashi Part IV: Diversity in Aging Experience Chapter 14: Attitudes About Aging Gregory A. Hinrichsen Chapter 15: Multicultural Competence in Geropsychology David A. Chiriboga and Mario Hernandez Chapter 16: International Trends in Geropsychology Nancy A. Pachana Chapter 17: Gender and Aging: Perspectives From Clinical Geropsychology Susan Krauss Whitbourne and Jamila Bookwala Chapter 18: Understanding Lesbian, Gay, Bisexual, and Transgender Older Adults Douglas C. Kimmel, Kate L. M. Hinrichs, and Lauren D. Fisher Chapter 19: Spirituality, Religion, and Aging: Clinical Geropsychology and Aging People's Need for Meaning Susan H. McFadden Chapter 20: Grandparenting Bert Hayslip Jr., Robert J. Maiden, Kyle S. Page, and Megan L. Dolbin-MacNab Part V: Geriatric Medicine and Clinical Geropsychology Chapter 21: Dementia: A Health Care Team Perspective Asenath La Rue Chapter 22: Delirium in Clinical Geropsychology Hae Ri Na and Carol A. Manning Chapter 23: Aging, Chronic Disease, and the Biopsychosocial Model Andrea M. Garroway and Bruce Rybarczyk Chapter 24: Psychopharmacology and Polypharmacy Merla Arnold Index Volume 2: Assessment,Treatment, and Issues of Later Life Editorial Board Contributors Part I: Assessment and Treatment for the Psychological Disorders of Aging Chapter 1: Depression in Later Life Barry A. Edelstein, Patricia M. Bamonti, Jeffrey J. Gregg, and Lindsay A. Gerolimatos Chapter 2: Late-Life Anxiety Disorders Emily S. Bower and Julie Loebach Wetherell Chapter 3: Personality Disorders in Later Life Steve Balsis, Richard A. Zweig, and Victor Molinari Chapter 4: Schizophrenia in Late Life Brent T. Mausbach and Jennifer Ho Chapter 5: Alcohol Abuse and Substance Misuse in Later Life Derek D. Satre and Jennifer Price Wolf Chapter 6: Suicidal Behavior in Older Adults Amy Fiske, Merideth D. Smith, and Elizabeth C. Price Chapter 7: Mild Cognitive Impairment and Alzheimer's Disease Melissa Castro and Glenn E. Smith Chapter 8: Vascular Cognitive Impairment David Nyenhuis Chapter 9: Parkinson's Disease Dementia and Dementia With Lewy Bodies Scott A. Sperling, Alexandra C. Geneser, and Carol A. Manning Chapter 10: Clinico-Behavioral and Neuropathological Sequelae of Traumatic Brain Injury in the Aging