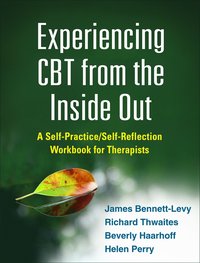 Fler böcker inom
Format

Häftad (Paperback / softback)

Språk

Engelska

Antal sidor

278

Utgivningsdatum

2015-03-25

Förlag

Medarbetare

Padesky, Christine A (foreword)

Dimensioner

33 x 255 x 195 mm

Vikt

640 g

Antal komponenter

1

ISBN

9781462518890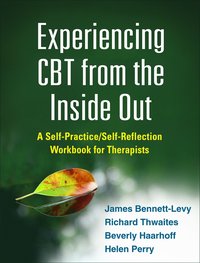 Experiencing CBT from the Inside Out
A Self-Practice/Self-Reflection Workbook for Therapists
Skickas från oss inom 7-10 vardagar.

Fri frakt över 199 kr för privatkunder i Sverige.
Finns även som
Läs i DRM-kompatibel e-boksläsare.

Läs i DRM-kompatibel e-boksläsare.
Engaging and authoritative, this unique workbook enables therapists and students to build technical savvy in contemporary CBT interventions while deepening their self-awareness and therapeutic relationship skills. Self-practice/self-reflection (SP/SR), an evidence-based training strategy, is presented in 12 carefully sequenced modules. Therapists are guided to enhance their skills by identifying, formulating, and addressing a professional or personal problem using CBT, and reflecting on the experience. The book's large-size format makes it easy to use the 34 reproducible worksheets and forms. Purchasers also get access to a Web page where they can download and print the reproducible materials.
Passar bra ihop
+
Fler böcker av författarna
Russell L Kolts, Tobyn Bell, James Bennett-Levy, Chris Irons

James Bennett-Levy, Gillian Butler, Melanie Fennell, Ann Hackmann, Martina Mueller
Recensioner i media
"As a reader, you are in good hands. The authors not only have used these methods themselves, they have guided hundreds of therapists through the process. The exercises, worksheets, and instructive text are all road-tested and designed to help you have the best experience possible using CBT for self-practice. The self-reflection exercises integrated into this book help you maximize your learning.Along the way, your efforts are likely to kindle new depths of meaning and new ways of being to help you become a better therapist and a happier person."--from the Foreword by Christine A. Padesky, PhD, Center for Cognitive Therapy, Huntington Beach, California This terrific book places the direct personal experience of CBT right at the heart of the training process. SP/SR has been an enduring passion for Bennett-Levy and his international team of authors for more than 15 years, and this steady commitment shines through in the books integration of clearly explained theory, evidence, and lucidly designed and written practical modules. Encouraging us to apply CBT concepts and methods to ourselves, the book highlights our common humanity--because we and our patients have the same imperfect human minds, and we too can liberate ourselves from unhelpful old patterns in just the same way. A radical and refreshing approach!--Melanie Fennell, PhD, Oxford Mindfulness Centre, Department of Psychiatry, University of Oxford, United Kingdom "This workbook skillfully and compassionately walks mental health trainees and experienced practitioners alike through the steps of applying the evidence-based practices of CBT to themselves for professional and personal growth. Using well-crafted written and experiential exercises, Bennett-Levy et al. help the reader to recognize self-limiting 'old ways of being' and to develop and maintain 'new ways of being.' The result is an increase in empathy for clients who struggle with the therapeutic process (which is arduous!) and an enhanced congruency between what therapists offer their clients and how they live their own lives. The book will be of great benefit in graduate training, in group supervision, as a professional development project, or as part of a CBT retreat with colleagues."--Cory F. Newman, PhD, ABPP, Director, Center for Cognitive Therapy, Perelman School of Medicine at the University of Pennsylvania "The authors have done CBT a great service. Good teachers know their subject inside out; therapists who use CBT tools to understand their own vulnerabilities and strengths--and change long-standing habits of thinking and behavior--will be better at teaching these tools to clients. Clients sense this authenticity. The authors show how to imbue CBT with compassion, humanity, and the humility that comes from direct experience of how hard change can be."--Willem Kuyken, PhD, Department of Psychiatry, University of Oxford, United Kingdom "This book builds on what we already know about working with clients: learning through experience is far more valuable than being told something or reading about it. Of course, this principle applies just as much to the therapist. The book will likely be helpful to clinicians at all career stages who wish to improve their ability to help others or who are working with challenging clients."--Adam S. Radomsky, PhD, Department of Psychology, Concordia University, Canada "I applaud the authors for this excellent book. CBT offers highly effective tools for change, but convincing clients to use them is not always easy. There is no doubt that personal practice with the techniques will enhance the therapist's ability to motivate clients. Therapists will be better able to respond to queries convincingly and preempt any problems in implementation. Importantly, SP/SR is likely to increase practitioners' empathy and respect for clients, thus enhancing the therapeutic alliance and improving outco
Övrig information
James Bennett-Levy, PhD, is Associate Professor in Mental Health at the University Center for Rural Health, University of Sydney, Australia. He has pioneered self-experiential CBT training since his first self-practice/self-reflection (SP/SR) paper in 2001, and has made a significant contribution to the therapist training literature with over 25 CBT training publications. In particular, his 2006 Declarative-Procedural-Reflective model of therapist skill development is widely used and cited. Dr. Bennett-Levy is coauthor or coeditor of several books on CBT practice, including, most recently, the Oxford Guide to Imagery in Cognitive Therapy. Richard Thwaites, DClinPsy, is a consultant clinical psychologist and CBT therapist who serves as Clinical Director for a large National Health Service psychological therapies service in the United Kingdom. In addition to delivering therapy, he provides clinical leadership, supervision, training, and consultancy in CBT, including the implementation of SP/SR programs. His research interests include the role of the therapeutic relationship in CBT and the use of reflective practice in the process of skill development. Beverly Haarhoff, PhD, is a clinical psychologist and Senior Lecturer in the School of Psychology at Massey University, Auckland, New Zealand, where she was instrumental in setting up the first Postgraduate Diploma in CBT in the southern hemisphere. For the past 14 years she has trained and supervised both CBT and clinical psychology trainees. Her research has focused primarily on SP/SR as mechanisms to support and improve therapist skill acquisition in CBT therapists at all levels of development. Dr. Haarhoff has a private clinical practice and regularly presents CBT training workshops. Helen Perry, MA, is Adjunct Senior Lecturer at the University of Sydney and a clinical psychologist in private practice. She played a key role in creating the CBT Diploma Program at Massey University and is an active CBT trainer and supervisor. She served as Project Manager for a research study focusing on online CBT training and coauthored two papers in this area. Ms. Perry has worked across the lifespan in a wide range of clinical settings. Her special interests are in complex/comorbid depression and anxiety, and trauma- and stress-related disorders.
Innehållsförteckning
Foreword, Christine A. Padesky 1. Introducing Experiencing CBT from the Inside Out 2. Experiencing CBT from the Inside Out: The Conceptual Framework 3. Guidance for SP/SR Participants 4. Guidance for SP/SR Facilitators I. Identifying and Understanding Unhelpful (Old) Ways of Being Module 1. Identifying a Challenging Problem Module 2. Formulating the Problem and Preparing for Change Module 3. Using Behavioral Activation to Change Patterns of Behavior Module 4. Identifying Unhelpful Thinking and Behavior Module 5. Using Cognitive Techniques to Modify Unhelpful Thinking and Behavior Module 6. Reviewing Progress II. Creating and Strengthening New Ways of Being Module 7. Identifying Unhelpful Assumptions and Constructing New Alternatives Module 8. Using Behavioral Experiments to Test Unhelpful Assumptions against New Alternatives Module 9. Constructing New Ways of Being Module 10. Embodying New Ways of Being Module 11.Using Behavioral Experiments to Test and Strengthen New Ways of Being Module 12. Maintaining and Enhancing New Ways of Being Module Notes References Index