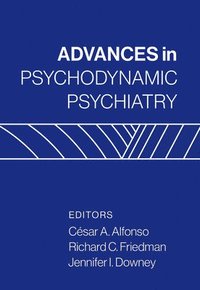 Fler böcker inom
Format

Inbunden (Hardback)

Språk

Engelska

Antal sidor

406

Utgivningsdatum

2019-04-10

Förlag

Medarbetare

Alfonso, Cesar a. (ed.), Friedman, Richard C. (ed.), Downey, Jennifer I. (ed.)

Illustrationer

Illustrations, unspecified

Dimensioner

259 x 183 x 28 mm

Vikt

908 g

Antal komponenter

1

ISBN

9781462538638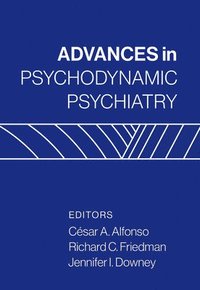 Advances in Psychodynamic Psychiatry
Skickas från oss inom 7-10 vardagar.

Fri frakt över 249 kr för privatkunder i Sverige.
Finns även som
Läs i DRM-kompatibel e-boksläsare.

Läs i DRM-kompatibel e-boksläsare.
Bringing together important articles from Psychodynamic Psychiatry, this volume shows how contemporary practitioners are using a multidimensional biopsychosocial approach to increase the robustness of clinical research and the effectiveness of patient care. Chapters review cutting-edge approaches to formulating anxiety and mood disorders, eating disorders, traumatic grief, substance use and addictive behaviors, obsessivecompulsive disorder, personality disorders, schizophrenia, somatic symptom disorders, and trauma and stressor-related disorders. Treatment of specific populations is addressed, including infants and parents, children, spouses of the chronically ill, survivors of intimate partner violence, criminal offenders, and the elderly. Featuring rich case illustrations, the book integrates psychoanalytic concepts with advances in knowledge about neuroscience, geneenvironment interactions, and the physiological impact of adversity.
Passar bra ihop
+
Fler böcker av författarna
Recensioner i media
This volume offers one of the best overviews of the emerging field of psychodynamic psychiatry that I've seen. Particularly impressive is the coverage of a variety of specific clinical conditions and special populations, as well as attention to ongoing research, including that of a psychobiological nature. I also appreciate the practical emphasis on improving clinical care. This book will be quite valuable as basic reading in psychiatry residency training and continuing medical education courses."--Juan E. Mezzich, MD, PhD, Professor of Psychiatry, Icahn School of Medicine at Mount Sinai, New York City "This is an extraordinary book! It cogently argues against throwing out the baby of viable and useful psychoanalytic ideas with the bathwater of psychoanalytic dogmatism. The conception of psychodynamic psychiatry espoused here is thoroughly modern, integrating psychoanalysis with neuroscience, cognitive psychology, and research, and adopting a positive attitude toward all aspects of psychiatry, including psychopharmacology and diagnosis. The volume includes chapters on all kinds of patients and therapeutic enterprises, each of which emphasizes the importance of following the patients narrative without disregarding other important elements. Advances in Psychodynamic Psychiatry is a tour de force that should be required reading throughout the field of mental health."--Elizabeth L. Auchincloss, MD, Vice-Chair of Education, Weill Cornell Medical College; Training and Supervising Psychoanalyst, Columbia University Center for Psychoanalytic Training and Research "The editors have gathered a remarkable group of contributors to portray a new discipline influenced by long-standing ideas. The book is lively and wide ranging, with chapters by major figures in the field. It will help secure the place of psychodynamic psychiatry around the world. This is valuable reading for clinicians, researchers, and especially educators who seek to ensure the continuation of the psychodynamic approach in scarce-resource as well as high-income countries."--Helen Herrman, MD, MBBS, President (20172020), World Psychiatric Association -The overall quality of the book is very high. It is a concise but complete and relevant introduction to psychodynamic psychiatry, its application to specific clinical phenomena that can be challenging, the realities of practicing psychiatry, and important updates from neurobiological fields that are relevant to psychodynamic psychiatry treatment. It is a welcome addition to other publications on psychodynamic conceptualization of psychiatric disorders and summary of treatment aims. *****!--Doody's Review Service, 5/24/2019
Övrig information
Csar A. Alfonso, MD, Editor of Psychodynamic Psychiatry, is Clinical Professor of Psychiatry at Columbia University in New York, Adjunct Professor at the University of Indonesia in Jakarta, and Visiting Professor at the National University of Malaysia in Kuala Lumpur. He also teaches at New York Medical College and Northwell Health. He serves as Chair of the Psychotherapy Section of the World Psychiatric Association. His recent work includes the study of the psychodynamic determinants of treatment adherence, biopsychosocial and transcultural aspects of suicide, the clinical care of persons with low vision and medical multimorbidities, and the design and implementation of psychotherapy training programs. Richard C. Friedman, MD, Editor-in-Chief of Psychodynamic Psychiatry, is Clinical Professor of Psychiatry at Weill Cornell Medical College, Lecturer in Psychiatry at the Columbia University College of Physicians and Surgeons, and Faculty Member at the Columbia Center for Psychoanalytic Training and Research. His book on male homosexuality was the first to integrate neuroscience, sexology, developmental psychology, and psychoanalytic theory and practice. He began a collaboration with Jennifer I. Downey in 1991 that led to many publications and a book on sexual orientation and psychoanalysis. Drs. Friedman and Downey served as Co-Chairs of the Human Sexuality Committee of the Group for the Advancement of Psychiatry. Dr. Friedman is a recipient of the Mary S. Sigourney Award from the Sigourney Trust. He practices in New York City. Jennifer I. Downey, MD, Editor of Psychodynamic Psychiatry, is Clinical Professor of Psychiatry at the Columbia University Vagelos College of Physicians in New York. She is also on the faculty of the Columbia University Center for Psychoanalytic Training and Research. Dr. Downey was a sex researcher before becoming a psychiatrist and psychoanalyst, and, with Richard C. Friedman, wrote about sexual fantasy, sexual orientation, and sexual minorities. Her current interests include womens health, sexuality in people with psychiatric disorders, individuals with gender dysphoria and nonbinary gender identities, and teaching psychodynamic psychotherapy skills in psychiatric training programs.
Innehållsförteckning
- Foreword, Jennifer I. Downey - Preface, Csar A. Alfonso - Introduction, Richard C. Friedman I. Psychodynamic Psychiatry--An Emerging Field 1. Psychodynamic Psychiatry and Psychoanalysis: Two Different Models, Richard C. Friedman, Csar A. Alfonso, & Jennifer I. Downey 2. Contemporary Psychodynamic Psychiatry, Richard C. Friedman, Jennifer I. Downey, & Csar Alfonso II. A Psychodynamic Approach to Complex Psychiatric Disorders - Notes, Csar A. Alfonso Anxiety Disorders 3. Unmentalized Aspects of Panic and Anxiety Disorders, Fredric N. Busch & Larry S. Sandberg 4. Behind the Mask: A Psychodynamic Exploration of the Experiences of Individuals Diagnosed with Social Anxiety Disorder, Beth McEvoy, John O'Connor, & Odhran McCarthy Eating Disorders 5. Eating Disorders and Attachment: A Contemporary Psychodynamic Perspective, Giorgio A. Tasca & Louise Balfour Grief 6. Grieving: The Role of Self-Reorganization, Mardi Horowitz Internet and Social Networking Excessive Use 7. Psychodynamic Factors Behind Online Social Networking and Its Excessive Use, Thomas Cheuk Wing Li Mood Disorders 8. The Psychodynamic Psychotherapist's Guide to the Interaction among Sex, Genes, and Environmental Adversity in the Etiology of Depression for Women, Simone N. Vigod & Valerie H. Taylor 9. Is Increased Sexual Behavior a Symptom of Bipolar Disorder in Children and Adolescents?, Stewart Adelson, Robinette Bell, Adam Graff, David Goldenberg, Elizabeth Haase, Jennifer I. Downey, & Richard C. Friedman ObsessiveCompulsive Disorder 10. An Integrative Approach to Treatment-Resistant ObsessiveCompulsive Disorder, Luke Sy-Cherng Woon, Anita Kanapathy, Hazli Zakaria, & Csar A. Alfonso Personality Disorders 11. Moving Beyond Specialized Therapies for Borderline Personality Disorder: The Importance of Integrated Domain-Focused Treatment, W. John Livesley 12. Borderline Patients: 25 to 50 Years Later, with Commentary on Outcome Factors, Michael H. Stone 13. Pathological Narcissism and the Obstruction of Love, David Kealy & John S. Ogrodniczuk Schizophrenia 14. Psychotherapy for Schizophrenia: A Review of Modalities and Their Evidence Base, Michael Brus, Vladan Novakovic, & Ahron Friedberg Somatic Symptom Disorders 15. A Psychodynamic Perspective on Treatment of Patients with Conversion and Other Somatoform Disorders, Marcia J. Kaplan Substance-Related and Addictive Disorders 16. Further Evidence of Self-Medication: Personality Factors Influencing Drug Choice in Substance Use Disorders, Lindsey Colman McKernan, Michael R. Nash, William H. Gottdiener, Scott E. Anderson, Warren E. Lambert, & Erika R. Carr Trauma and Stressor-Related Disorders 17. Psychodynamic Treatment of Combat Veterans with PTSD at Risk for Suicide, Herbert Hendin 18. The Cost of Chronic Stress in Childhood: Understanding and Applying the Concept of Allostatic Load, Debra A. Katz, Ginny Sprang, & Circe Cooke III. Psychodynamic Psychiatry in Special Populations - Notes, Richard Friedman & Jennifer Downey 19. Psychodynamic Therapies with Infants and Parents: A Critical Review of Treatment Methods, Bjrn Salomonsson 20. Childhood Precursors of Personality Disorders: Evaluation and Treatment, Clarice J. Kestenbaum 21. How Clinicians Feel about Working with Spouses of the Chronically Ill, Douglas H. Ingram 22. The Effects of Intimate Partner Violence on Women and Child Survivors: An Attachment Perspective, Alytia A. Levendosky, Brittany Lannert, & Matthew Yalch 23. Psychodynamic Treatment of the Criminal Offender: Making the Case for Longer-Term Treatment in a Longer-Term Setting, Abby L. Mulay, Elspeth Kelly, & Nicole M. Cain 24. Psychotherapeutic/Psychoanalytic Treatment of the Elderly, Joseph Schachter, Horst Kchele, & Judith S. Schachter IV. Psychodynamic Psychiatry and Neuroscience - Notes, Csar A. Alfonso 25. Freud's Project: The MindBrain Connection Revis