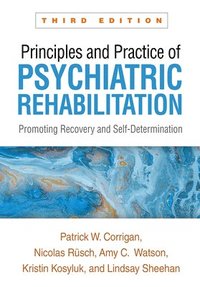 Fler böcker inom
Format

Inbunden (Hardback)

Språk

Engelska

Antal sidor

404

Utgivningsdatum

2024-03-06

Upplaga

3 ed

Förlag

Antal komponenter

1

ISBN

9781462553716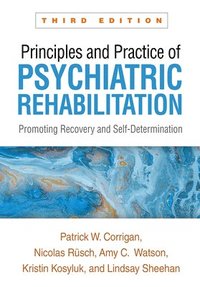 Principles and Practice of Psychiatric Rehabilitation, Third Edition
Promoting Recovery and Self-Determination
Ännu ej utkommen – klicka "Bevaka" för att få ett mejl så fort boken boken går att köpa.
The leading text and go-to practitioner resource on psychiatric rehabilitation is now in a thoroughly revised third edition, bringing readers up to date on current ideas, findings, and evidence-based best practices. The expert authors present the knowledge needed to help adults with psychiatric disabilities develop their strengths and achieve their life goals. The book describes effective ways to assess personal needs and aspirations; integrate medical and psychosocial interventions; implement supportive services in such areas as housing, employment, education, substance use, and physical health; and combat stigma and discrimination. "Personal Examples" throughout the text share the experiences of diverse individuals recovering from serious mental illness. New to This Edition *Increased attention to social determinants of health; for example, the impact of race, ethnicity, gender identity, sexual orientation, poverty, and criminal justice involvement. *Chapter on developing more equitable, culturally competent services. *Expanded coverage of physical health and wellness. *New and expanded discussions of community-based participatory research, peer recovery support providers, and other timely topics.
Fler böcker av författarna
Recensioner i media
"This is the most comprehensive text describing the essential role of psychiatric rehabilitation in recovery-oriented mental health service delivery. The book covers a broad range of therapeutic and supportive services. Beyond skills training and individual interventions, the critical emphasis on combating stigma, increasing rights and access to resources, and advocating for equity and inclusion makes this book required reading. The text is extraordinary in its accessibility for learners at any level--especially graduate and professional students--and its relevance for courses across the mental health disciplines."--Mark S. Salzer, PhD, College of Public Health, Temple University, and Director, Temple University Collaborative on Community Inclusion "Treatment alone is rarely sufficient to enable people who live with serious mental health conditions to achieve their goals in life. The comprehensively updated third edition of this book demonstrates the potency of psychiatric rehabilitation services and strategies for helping people achieve their goals and function in their desired community roles. Corrigans focus on the principles of personhood and self-determination shines throughout."--Dori S. Hutchinson, ScD, Executive Director/Director of Services, Center for Psychiatric Rehabilitation, Boston University "I have used the second edition of this text in my 400-level Community Mental Health Practice and Services course, and I am elated to see the third edition! The third edition provides a thorough overview of psychiatric rehabilitation considerations within a wide array of community public health sectors and contexts at both the micro and macro levels. It provides the reader with relevant information about the most up-to-date evidence-based practices in the field. This is a 'must-have' book for any student considering entering the field of community mental health."--Michael B. Lavetsky, MA, LPC, NCC, Program Chair and Lecturer, Rehabilitation and Human Services Major, Penn State Abington This is a valuable text for graduate-level courses in multiple disciplines that deal with assessment, evaluation, diagnosis, and treatment planning for serious mental illness. The authors provide an accessible combination of theories, research, concrete examples, and interventions. Corrigans strengths-based perspective is cutting-edge, supportive, and, most important, patient focused."--Marc V. Felizzi, LCSW, PhD, School of Social Work, Millersville University of Pennsylvania-Marks a turning point in the professional literature by infusing hope into the careful and comprehensive information presented about diagnoses, symptoms, and impairments that can lead to disability, while describing service approaches and the evidence to support them....If widely adopted as a college textbook, this work could reshape curricula for students planning careers in human services. (on the first edition)--PsycCRITIQUES, 08/01/2008This encyclopedia of validated best practices should be a sturdy and ready reference on the shelf of all practitioners who work with the severely mentally ill....Case examples are sprinkled throughout the text to illustrate the techniques being described....A splendid volume. (on the first edition)--American Journal of Psychiatry, 07/01/2008An excellent resource for practice and research issues related to the psychiatric rehabilitation system....A very practical guide for those in the field. (on the first edition)--Journal of Psychiatric Practice, 11/01/2008It would be difficult to overstate the relevance and utility of this book for the fields of psychiatry, psychology, social work, rehabilitation, occupational and recreational therapy, and nursing.Provides an unparalleled introduction to and review of the field. (on the first edition)--Journal of Nervous and Mental Disease, 01/01/2009Impressive.Offers a remarkable amount of good evidence, historical over
Övrig information
Patrick W. Corrigan, PsyD, is Distinguished Professor of Psychology at the Illinois Institute of Technology. Previously, he was Professor of Psychiatry and Executive Director of the Center for Psychiatric Rehabilitation at the University of Chicago. Dr. Corrigan has spent most of his career providing and evaluating services for people with psychiatric disabilities. He has served as principal investigator of the National Consortium on Stigma and Empowerment and led the team that developed the Honest, Open, Proud program. In addition to the impact of stigma on psychiatric disabilities and rehabilitation, his research interests center on the role of social determinants of health such as ethnicity, gender identity, poverty, and criminal justice involvement. The author of more than 450 journal articles and 20 books, Dr. Corrigan is editor of the journal Stigma and Health. Nicolas Rsch, MD, is Professor of Public Mental Health at Ulm University in Ulm, Germany, and Consultant Psychiatrist in a home treatment team in nearby Gnzburg. Dr. Rsch is one of the editors of the journal Social Psychiatry and Psychiatric Epidemiology. His research interests include mental illness stigma; antistigma interventions, such as the Honest, Open, Proud program; self-concept and disclosure of mental illness; and mental illness and unemployment. Amy C. Watson, PhD, is Professor in the School of Social Work at Wayne State University. She is a past president of CIT International and is currently President of Crisis Response Programs and Training. Dr. Watson's work since the 1990s has centered on people with psychiatric disabilities who have contact with the criminal legal system, with a focus on police encounters and the Crisis Intervention Team (CIT) model. She is currently examining models to reduce/eliminate the role of police in mental health crisis response. Dr. Watson has authored over 100 publications. Earlier in her career, she worked as a probation officer on a team serving clients with serious mental illnesses. Kristin Kosyluk, PhD, is Assistant Professor of Mental Health Law and Policy at the University of South Florida, Faculty Affiliate of the Louis de la Parte Florida Mental Health Institute, and Director of the Stigma Action Research (STAR) Lab. Her research focuses on understanding and addressing the stigma surrounding behavioral health conditions. More recently, Dr. Kosyluk has begun to work in the areas of stigma around HIV and substance use. She is also researching the impact of technology-based antistigma interventions. She is Vice President of the National Alliance on Mental IllnessHillsborough County and board member at large of the Florida Rehabilitation Association, and serves on the editorial board of Stigma and Health. Lindsay Sheehan, PhD, is Assistant Professor of Psychology and Associate Director of the Center on Health Equity, Education, and Research at the Illinois Institute of Technology. With over 30 peer-reviewed publications, Dr. Sheehan conducts research on the stigma of mental illness, suicide, health equity, and the evaluation of peer services for people with mental illness. She developed the Inspiring Change community-based participatory research (CBPR) curriculum and has extensive experience implementing CBPR programming. She is director of a state-funded program to train certified recovery support specialists and certified peer recovery specialists. Dr. Sheehan also has a decade of experience working in community mental health care, including provision of counseling, case management, residential support, and vocational training services.
Innehållsförteckning
Preface I. Fundamentals to Recovery-Based Rehabilitation 1. Who Are People with Psychiatric Disabilities? 2. Stigma and Mental Illness 3. What Is Psychiatric Rehabilitation? 4. Psychiatric Disability and Equity II. Strategies That Promote Recovery 5. Assessment 6. Erasing Stigma and Promoting Empowerment 7. Wellness Self-Management and Recovery 8. Care Coordination 9. Medications 10. Housing and Citizenship 11. Employment and Education 12. Family 13. Psychosis and Cognitive Challenges 14. Criminal Justice 15. Physical Health and Wellness 16. Co-Occurring Mental Illness and Substance Use Disorder 17. Peer Supports and Services References Index