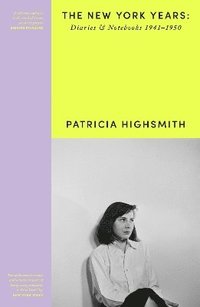 Fler böcker inom
Format

Häftad (Paperback / softback)

Språk

Engelska

Antal sidor

672

Utgivningsdatum

2024-02-08

Förlag

Dimensioner

198 x 129 x 129 mm

Vikt

41 g

ISBN

9781474617611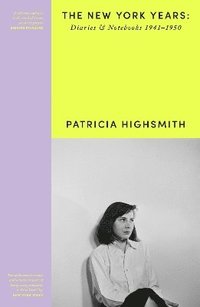 Patricia Highsmith: Her Diaries and Notebooks
The New York Years, 19411950
Ännu ej utkommen – klicka "Bevaka" för att få ett mejl så fort boken boken går att köpa.
'My secrets - the secrets that everyone has - are here, in black and white.' Before Alfred Hitchcock adapted her debut novel, Strangers on a Train, for the big screen; before Thomas Ripley snaked his way into the canon of psychological suspense; before Carol became a cult classic of romantic obsession, who was Patricia Highsmith? Beginning in 1941 and encompassing Highsmith's adventurous twenties, The New York Years is an intimate self-portrait of a young artist, reading voraciously and honing her craft, intertwined with scenes from her dizzying social life, rife with sleepless nights spent in the queer bars of Greenwich Village. This condensed edition of Highsmith's monumental Diaries and Notebooks offers all the pleasures of her fiction, along with an unparalleled insight into the life, mind and times of this enigmatic, iconic, trailblazing author. 'One of the most observant and ecstatic accounts . . . about being young and alive in New York City' New York Times
Fler böcker av Patricia Highsmith
Recensioner i media
The whole book is excellent. Highsmith is pointed and dry about herself and everything else. But the early chapters are special. They comprise one of the most observant and ecstatic accounts I've read - and it's a crowded field! - about being young and alive in New York City * New York Times * Offers the most complete picture ever published of how Highsmith saw herself * New York Times * One of the finest writers in the English language -- Richard Osman One of the literary highlights of 2021 * Guardian * I don't think I've ever met a person as troubling or intelligent, frustrating and frustrated, and triumphantly alone. A master diarist as much as novelist. Highsmith's Her Diaries and Notebooks are a portrait of a time, a long passage from the forties to the nineties, and you've never travelled on this perspective before -- Eileen Myles Highsmith's astonishing candour in the witness stand of her personal notebooks, and heartbreaking self-exposures in the jury box of her diaries, are like nothing else in American confessional literature -- Joan Schenkar I love Highsmith so much. What a revelation her writing was -- Gillian Flynn Few writers fathomed with such intensity the dark places of the human mind * Evening Standard * There is no one quite like Highsmith -- Anita Brookner Highsmith was every bit as deviant and quirky as her mischievous heroes, and didn't seem to mind if everyone knew it -- J. G. Ballard Opens a window onto this extraordinary writer's inner life and working methods . . . a welcome addition to the work of a most eccentric genius * Evening Standard * The quippiness of the journals is a delight, few can sum up the creative life this deliciously * Observer * Provides stunning access to the mind of a notoriously secretive author * Vanity Fair * [Her Diaries and Notebooks] testify to the recalcitrant, unrelenting spirit of this great American curmudgeon and gifted crime writer * Focus * A quarter century after the death of novelist Highsmith (1921-1995), fans are given a fascinating and unprecedented look into the 'playground for her imagination' . . . Devotees and historians alike will linger over every morsel * Publishers Weekly * Disclosures from a meticulously documented life. . . An admirably edited volume for scholars and voracious fans * Kirkus Reviews * A vivid portrait of a driven, impassioned, brutal and remarkably singular person, with a vast appetite for women, alcohol and - above all - her work * New Statesman * Here comes Patricia Highsmith at last, striding out of the closet, in her own words . . . A frank, and frankly disturbing, portrait of a writer who concealed the personal sources of her work for her entire life * Literary Review * As well as the late-night parties, alcohol and short-lived love affairs, we see a serious writer at work, determined to resist being pigeonholed * Spectator * Patricia Highsmith's diaries are something to behold, She is deliciously eccentric and droll, her romances always threaded with bitterness and lust -- Eva Wiseman * Observer * These secret diaries take us inside Patricia Highsmith's brilliant yet twisted mind . . . Here then, laid out for us, is the private life Highsmith transmuted into fiction, into those great novels in which innocence and guilt, good and evil meld into one another so alarmingly * Sunday Times * An unguarded portrait of a young woman taking the first tentative steps into the worlds of sex and literary endeavour . . . a capacious portrait of a complex author and a compelling coming-of-age story * Prospect Magazine * Offers insights into the thriller writer's many passions and creative intellect * Financial Times * Keep them beside the bed, dip into them each night. And read them you must. Magnificent * The Times * Highsmith likens herself to "a steel needle", and her insights puncture complacency as if piercing flesh. She is the murderer, and we are all the victi
Övrig information
Highsmith grew up in New York City and studied English composition, playwriting and short story prose at Barnard College. Her first novel STRANGERS ON A TRAIN was published in 1950, and Alfred Hitchcock's film adaptation of the book the following year considerably enhanced Highsmith's reputation. In 1952, she published her second novel THE PRICE OF SALT under the nom de plume Claire Morgan. It became a bestseller and was later reissued as CAROL (1990) under Highsmith's own name. In 1955, she published THE TALENTED MR RIPLEY which gained huge popularity and earned Highsmith Le Grand Prix de Littrature Policire in 1957. During her long career, Highsmith wrote twenty-two novels and nine short story collections. There have been dozens of film and television adaptations based on her work, and she remains one of the best-loved writers of psychological suspense.