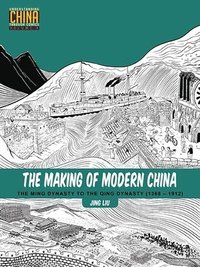 Fler böcker inom
Format

Häftad (Paperback / softback)

Språk

Engelska

Antal sidor

176

Utgivningsdatum

2017-11-30

Förlag

Illustrationer

B&W illustrations throughout, tables

Dimensioner

201 x 152 x 13 mm

Vikt

250 g

Antal komponenter

1

ISBN

9781611720396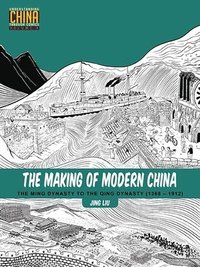 The Making of Modern China
The Ming Dynasty to the Qing Dynasty (1368-1912)
Skickas inom 7-10 vardagar.

Gratis frakt inom Sverige över 199 kr för privatpersoner.
The fourth volume in a series, builds on philosophical, economic, and political ideas introduced in the previous volumes. This is the only comic or graphic novel of its kind that addresses Chinese history both accessibly and accurately for all age levels. Taps into librarians, educators, and parents who are looking for ways to get students and children reading about China, and who are often looking for such resources themselves too. This is THE go-to graphic novel resource on China. Not just an informative read though, this book is also full of gripping narratives about dynastic struggles, fierce battles, and colorful characters. Already blurbed by Amy Tan, the author is a well-known figure in expat communities in China, having worked with The BBC, The Ford Foundation, and UNICEF. A previous edition of a volume in this series published on CreateSpace was a 2012 INDIEFAB Book of the Year Award Finalist in Graphic Novels and Comics and was featured on Jeremy Paxman's BBC Newsnight.
Passar bra ihop
+
Recensioner i media
"A great way to learn about China's vast history!"-Amy Tan, author of The Joy Luck Club "Excels at clarifying the often-confusing transitional periods between dynasties... An excellent introduction to the large trends of early Chinese history."-School Library Journal 5/5 Stars "An invaluable source... Chinese history is a vast subject, but Jing Liu has a skillful ability to condense it all into an interesting and manageable narrative."-Kids' Book Buzz "Combines breezy style with historical rigor to strike just the right gong-tone for a middle school audience approaching the vast scope of Chinese history."-Education About Asia "The combination of silhouettes-often threatening, martial ones-with open-faced, expressively individualized figures of many social classes adds dramatic tension while neatly balancing the big-picture narrative. There's a lot to absorb even in this abbreviated form, but the visual approach lightens the load considerably."-Kirkus Reviews "The lucid, economical text makes one eager for successive volumes."-Booklist "Simple and effective...This direct, appealing introduction to the foundations of one of the world's oldest civilizations is recommended for teens and adults."-Library Journal "The book does what it says it does: a child will come away with a basic understanding of early Chinese history, what makes the Chinese tick as a people and culture."-Asian Review of Books "This book is "The Magic School Bus" for those starting to explore Chinese culture."-Dan Cao, Instructor at Confucius Institute at UC Davis "An excellent history that clearly explains the great (and ordinary) people who have made China what it is and the conflicts and debates that have shaped Chinese history. There is nothing else like it in English or Chinese."-Alan Baumler, Professor of History at Indiana University of Pennsylvania "No more burying yourself in text-heavy history books to learn about China, this comic-style book manages to be rich in information and bring Chinese history to readers in a more clear, fun, and accessible way than it's ever been done before. Easily integrated into a social studies or Chinese culture curriculum, I can't wait to get a copy for my class."-Grace Zeng, Chinese Teacher and Middle School Chinese Curriculum Area Leader at International School of Beijing "Jing Liu has brought to life the long and complex early period of Chinese history in this wonderful graphic novel. Foundations of Chinese Civilization is a delight to read; humorous, informative, and truly captivating."-Alexandra Pearson, Founder of The Bookworm Literary Festival "Since the 1990s, Jing Liu has been entertaining and informing foreigners about China with his cartoons. His new series of comic books is a fun, easy, accessible way to gain a basic understanding of Chinese history and culture."-Jeremy Goldkorn, Founder of Danwei
Övrig information
Jing Liu is an artist and entrepreneur from Beijing, China. He is currently the Managing Director of Moli Design, a China-based design firm that counts the BBC, MasterCard, The Ford Foundation, PriceWaterhouseCoopers, and UNICEF among its many clients. Liu graduated from Beijing University of Technology with undergraduate degrees in industrial design and engineering, and a masters in international economics and trade.
Innehållsförteckning
Previously in Understanding China through Comics . From penniless farm boy to emperor of China . Nanjing Reunifying China Turning inward: The Ming Dynasty, 1368 - 1644 . Protector of the poor . Low tax . Labor duties . Leave people alone . Low pay and corruption . Local officials . Central government officials . Warehouse administrators . Students . "What a difficult situation this is!" . Short-term measures with long-term implications . Losing control of its own currency . Failure of copper coins . Overspending destroys paper money . Retreat . Turning to silver . Japanese pirates . Tax monetization for war . Macau . "Why are we fighting with our money supply?" . Spanish Americas . "We don't control the trade or the source of silver." . Conscientious individuals in a flawed system . Wang Yangming and the School of Mind . Core teaching . Impact . Hai Rui, the oddball . Zhang Juzheng and a last attempt to save the empire . "It's a bad time to run out of money" . Final years of the Ming Dynasty . "Bandits can tear my body apart, but don't hurt my people" Manchus and the West: The Qing Dynasty, 1644 - 1912 "We're here to protect Chinese tradition" . The last Ming resistance in Taiwan Century of peace . Growing economy . Territorial expansion . Early contact with the West . Re-establishing trade . American crops . Jesuits . Turning point . System failure . Rise of industrial Britain . Bankruptcy . Opium trade . The first Opium War . The invisible hand . Heavenly Kingdom of Great Peace rebellion "Jesus is my brother!" . Scholars against the rebels . The second Opium War . Self-strengthening Empress Dowager Cixi to the rescue . Sir Robert Hart, head of the Chinese customs service. Burlingame, ambassador for America and China . New hope - the Beiyang force . Philo McGiffin and the Chinese navy . Incompatible with tradition . A new academy at Weihai Wei . When the dragon meets the rising sun . Rise of industrial Japan . Line of advantage . The first Sino-Japanese war . The Korean crisis . Declaration of war . Getting ready . The Battle of Yalu River . Encounter . Outnumbered battle . Fire in the forecastle . Withdraw . Battle results . Total defeat Aftermath . Peace treaty . Diaoyu Islands . Japan's path to imperial power . Carving up China Hundred Days' Reform Society on the eve of revolution . Modern city life . Impoverished countryside . "Now you must turn to God!" . Tensions in the birthplace of Confucius . Last straw from the Forbidden City The storm of 1900 . Battle of Beijing . Eight-nation alliance . Boxer Protocol . Final humiliation . Revolution Sun Zhongshan, father of modern China .