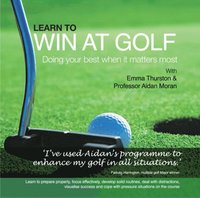 Format

E-bok

Filformat

EPUB med Adobe-kryptering
Om Adobe-kryptering

Nedladdning

Kan laddas ned under 24 månader, dock max 6 gånger.

Språk

Engelska

Utgivningsdatum

2011-03-08

Förlag

ISBN

9781617923050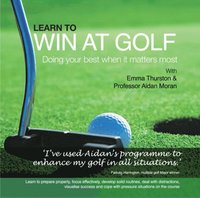 Learn to Win at Golf
E-bok
Doing Your Best When It Matters Most
This eBook is designed to help you to do your best when it matters most in Golf. In this eBook Professor Aidan Moran will be helping you to learn to prepare properly, focus effectively, develop solid routines, deal with distractions, visualise success and cope with pressure situations on the course. In helping you to learn how to win at Golf, we will be focusing on the &quote;mental side&quote; of golf - a crucial but neglected part of the game. It's crucial because although golf is played with the body, it's won in the mind. As the great Bobby Jones once remarked, &quote;competitive golf is played mainly on a five-and-a-half inch course - the space between your ears!&quote; When all else is equal, it's often mental toughness that determines who wins. Despite its importance, the psychology of golf has been neglected by coaches - mainly because, until recently, little scientific research has been conducted in this field. Fortunately, over the past decade, psychologists have made significant progress in identifying and training the mental skills which separate successful golfers from less successful counterparts. Based on such research, the purpose of this eBook is to present some practical tips on the psychology of golf to help you to improve your game - both on and off the course. &quote;Ninety percent of the time spent on a golf course doesn't involve hitting at all,&quote; notes Professor Moran. &quote;It is during that time that you must call upon a mental toughness and positive visualisation in order to succeed. The good news is any golfer can learn this and improve his or her game.&quote;Top Professionals are already using this programme to great effect! Padraig Harrington, multiple golf major winner, says: &quote;I've used Aidan's programme to enhance my golf in all situations.&quote; Harrington, 2007 Open Champion, 2008, Open Champion, and 2008 USPGA Champion, currently high in the world rankings went on to say: This programme is mental toughness put in simple terms.&quote;How this audio learning experience worksThis audio presentation has been designed using an experiential learning model, Kolb, D. A. (1984): concrete learning, reflective observation, abstract conceptualization, and active experimentation. By taking this approach we hope to cater for all learning styles. You will be given specific new information in the recording usually as &quote;key tips&quote;, &quote;explanations&quote; and &quote;quotes&quote;. You will be led through a gentle but positive meditative reflection process to assist you before conceptualisation and then putting your new skills into practice. You will be encouraged to return to the recording from time to time to re-listen and reinforce your learning and the desired changes in your life. Enjoy!
Fler böcker av Professor Aidan Moran
Professor Aidan Moran

Going to College or University is an exciting yet daunting experience for many students. It's exciting because you can study interesting subjects, make new friends and pursue new hobbies in College. But it's also daunting because in order to get a...

Professor Aidan Moran

In this eBook you will learn how to improve your concentration skills. You will be taught techniques which will enable you to focus on what is most important in any situation while ignoring distractions. Concentration is a practical skill which ca...