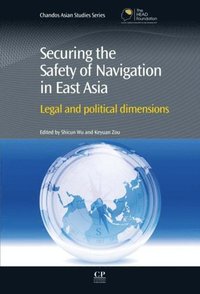 Fler böcker inom
Format

Filformat

EPUB med Adobe-kryptering
Om Adobe-kryptering

Nedladdning

Kan laddas ned under 24 månader, dock max 6 gånger.

Språk

Engelska

Antal sidor

304

Utgivningsdatum

2013-11-21

Förlag

Medarbetare

Wu, Shicun (guest ed.)/Keyuan, Zou (guest ed.)/Wu, Shicun (guest ed.)/Keyuan, Zou (guest ed.)

ISSN

1759-5347

ISBN

9781782421603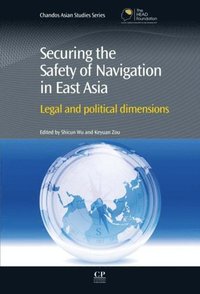 Securing the Safety of Navigation in East Asia
E-bok
Legal and Political Dimensions
Safe navigation of the seas is of global importance. Sea lanes provide vital connections for the growth of the global economy and the wellbeing of people everywhere. The sea lanes are of particular importance for the East Asian region, as most trade is undertaken on the ocean. Booming economies in the region such as China and Vietnam put more pressure on sea lanes, triggering concern for the safety of navigation. Securing the Safety of Navigation in East Asia identifies salient issues for academic debate, and further explores those that have practical implications for the safety of navigation in East Asia. Contemporary maritime security concentrates on safe navigation and inhibiting transnational crimes, including sea piracy and maritime terrorism. Maritime environmental security and search and rescue at sea are also important. Securing the Safety of Navigation in East Asia is structured into four sections: the first part introduces the topic, and looks at the safety of navigation and the search for a cooperative mechanism. The second part considers the international legal framework and its implications for East Asia. The third part presents national perspectives on the safety of navigation, and fi nally part four considers navigational issues in the South China Sea.Places a special focus on East AsiaAccommodates national perspectives in East Asia on navigation given by scholars from China, Japan, South Korea, Malaysia, the Philippines, and SingaporePresents a special section on the South China Sea, located in Southeast Asia and connecting the Indian and Pacific oceans; a critical sea route for maritime transport
Fler böcker av författarna
Övrig information
Shicun Wu is currently President of the National Institute for the South China Sea Studies located in Hainan, China. He was visiting scholar to the School of Advanced International Studies (SAIS) of John Hopkins University in 1998, to the Seminar on the Dynamics of US Foreign Policy--Regional Security sponsored by U.S. Government in 1999, and visiting senior research fellow at the Asia-Pacific Center for Security Studies in 2001 and at the Harvard Kennedy School of Government in 2008. His research focuses on the history and geography of the South China Sea, ocean boundary delimitation, international relations and regional security strategy. Keyuan Zou is Harris Professor of International Law at the Lancashire Law School of the University of Central Lancashire (UCLan), UK. He specializes in international law, in particular the law of the sea and international environmental law. Before this he worked in Dalhousie University in Canada, Peking University in China, University of Hannover in Germany, and the National University of Singapore. He is Academic Advisor to the China National Institute for South China Sea Studies and the Centre for Ocean Law and Policy of Shanghai Jiaotong University, China. Keyuan is member of the ESRC Peer Review College and the Commission on Environmental Law of the IUCN, and has published over 60 refereed papers in 30 international journals and eight single-authored and co-edited books, as well as being an editorial board member of international journals such as Ocean Development and International Law. Contributors include: Kazumine Akimoto, Ramses Amer, Robert Beckman, Alberto A. Encomienda, BA Hamzah, Nong Hong, Seokwoo Lee, Jianwei Li, Mingjiang Li, Nengye Liu, Donald R. Rothwell, Carlyle A. Thayer, Shicun Wu and Keyuan Zou.
Innehållsförteckning
Part 1 Introduction: Safety of navigation in East Asia: Seeking a cooperative mechanism. Part 2 international legal framework: Implications for East Asia: Navigating the currents of legal regimes and realpolitik in East Asia�s maritime domain; Compulsory pilotage and the law of the sea: Lessons learned from the Torres Strait; Navigational rights and marine scientific research: A further clarification? Part 3 safety of navigation from national perspectives: South Korea and the safety of navigation: Uncertainty derived from undefined fences; A Japanese researcher�s perspective on maritime navigation; Freedom of navigation and peaceful uses of the seas: UNCLOS, Chinese perspectives and personal thoughts; Foreign military activities in the EEZ: Preliminary views from Malaysia; Singapore�s South China Sea policy: Implications for the freedom and safety of navigation. Part 4 Navigational issues in the South China Sea: Cooperative mechanism for safety and security of navigation and ocean governance in the South China Sea; Rethinking the coastal states and user states� interests in the South China Sea: bridging the perception gap and sharing the responsibilities; Cross- strait cooperation on search and rescue in the Taiwan Strait and its implication for the South China Sea; The use of PSSAs in the South China Sea; Towards a mandatory port state control system in the South China Sea.