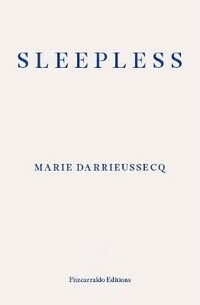 Fler böcker inom
Format

Häftad (Paperback / softback)

Språk

Franska

Antal sidor

272

Utgivningsdatum

2023-08-16

Förlag

Översättare

Penny Hueston

Originalspråk

French

Antal komponenter

1

ISBN

9781804270653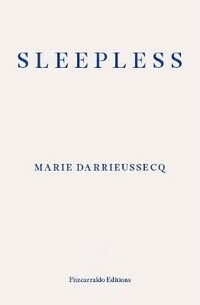 Sleepless
Skickas från oss inom 3-6 vardagar.

Fri frakt över 249 kr för privatkunder i Sverige.
Plagued by insomnia for twenty years, Marie Darrieussecq turns her attention to the causes, implications and consequences of sleeplessness: a nocturnal suffering that culminates at 4 a.m. and then defines the next day. In Sleepless, she recounts her own experiences alongside those of fellow insomniacs, mostly writers as if writing were not sleeping Ovid, Marcel Proust, Virginia Woolf, Marguerite Duras, Franz Kafka, Georges Perec and others. With her inimitable humour, she describes her dealings with a somnologist and her attempts to find a remedy trying sleeping pills, cannabis, alcohol, bedtime rituals, acupuncture, yoga, hypnosis, psychoanalysis, a gravity blanket and a range of sleep-aid devices. Darrieussecq considers bedrooms, beds, clinophilia (the tendency to remain in a prone position without sleeping for prolonged periods of time), her need to be alone in bed, those without beds, the homeless, refugees, trauma and capitalisms role in sleeplessness, our constant wakefulness online, the forest as a hypnagogic zone and how our relationship with animals is connected to our sleep, or lack of it. Ranging between autobiography, clinical observation and criticism, Sleepless is a graceful, inventive meditation by one of the most daring, inventive novelists writing today.
Passar bra ihop
+
Fler böcker av Marie Darrieussecq
Bo Madestrand, Carl Henrik Svenstedt, Magnus Olausson, Marie Darrieussecq, Maria Ridelberg-Lemoine
Recensioner i media
Marie Darrieussecq invites us on an extended patrol of the corridors of Hotel Insomnia in the company of the ghosts of the famous sleep-deprived, then turns to the story of her own intimate tussle with sleep that will not come. Amid the torrent of publications in the new sleep science, this is the only book I know that concedes to sleep its proper majesty and its own dark poetry. J. M. Coetzee Splendidly translated by Penny Hueston, this is a brilliantly creative and playful meditation on the disturbing reality of insomnia, one that weaves together Darrieussecqs own experiences with quotations, images and biographical anecdotes from other sleep-deprived writers. P. D. Smith, Guardian Sleepless is a peculiar book, though it captures the skittering, jittery mood of an insomniac's white forgetfulness, of what its like to be simultaneously over-stimulated and over-stretched. Roger Lewis, Telegraph On the page [Sleepless is] fragmentary, footnoted and studded with photos and illustrations. Its panoramic in its survey of insomniac literature, and also softly intimate where it touches on the authors own life. In its range and genre its unpindownable. Darrieussecq is one of the most prolific and distinguished living writers in France with a truly impressive body of work. All her familiar acuity, humour, humility and intensity are evident in Sleepless. Samantha Harvey, Guardian [Darrieussecq] shows convincingly that the socioeconomic organization of twenty-first-century life conspires to rob us of sleep. It is that, in the eyes of capitalism, sleep is a structural attention deficit that impedes non-stop-connectivity and the possibility of being open for value extraction and commodification twenty-four hours a day, seven days a week. For her readers, whether they are insomniacs or not, Sleepless is a meditation on a condition that is more widespread than is generally acknowledged, and impinges, at least philosophically, even on those who do not have it. Ryan Ruby, Times Literary Supplement Darrieussecq is a prolific and much-lauded novelist, psychoanalyst, and translator; she has also, for a significant portion of her life, been hopelessly unable to sleep. Sleepless tells the story of this near-unrelenting affliction, a recount couched in prose that is, by turns, distractedly diaristic, a socio-political tract, grimly funny, and heartbreaking all inflected by the dreamy logic of chronic wakefulness. It is the kind of book likely to keep a reader just as wide-eyed. Jack Barron, The Arts Desk Darrieussecq is exceptionally well-read and her prose is roving and referential. The effect is decadent and dexterous. The narration is high-octane, zooming from big ideas to minute detail within a handful of words. And yet she makes it so easy, so pleasurable to be taken on this ride. The reading experience is exhilaratingly lucid. Fiona Murphy, The Saturday Paper [D]arrieussecq writes as she takes us through treatments (wine, pills), rituals (counting lovers) and other practices (burrowing, gravity blankets). As her investigation expands it pulls in psychiatry, sorcery, genocide, street lighting, first husbands, lobotomies, the despoliation of nature. Drawing on her journals, previously published works, travels, personal photographs and memories of the pandemic years, the result is itself a bit like a sleepless night: hypnagogic, discursive. David Terrien, ArtReview Bad sleepers do not necessarily make great writers, and vice versa, but in Sleepless, Darrieussecq shows she a is a great writer, one who is very much awake, and that maybe all those nocturnal hours were not lost after all; she has provided us with a luminous exploration of life after dark. Joshua Rees, Buzz Magazine [I]ts a book about living with insomnia that contains within it the feeling and structure of i
Övrig information
Marie Darrieussecq was born in Bayonne in 1969 and is recognized as one of the leading voices of contemporary French literature. Her first novel, Pig Tales, was translated into thirty-five languages. She has written more than twenty books. Text has published Tom Is Dead, All the Way, Men, Being Here: The Life of Paula Modersohn-Becker, Our Life in the Forest, The Baby and Crossed Lines. In 2013 Marie Darrieussecq was awarded the Prix Mdicis and the Prix des Prix for her novel Men. She has written art criticism and journalism for a number of publications, including Libration and Charlie Hebdo, and is also a translator from English and has practised as a psychoanalyst. She lives in Paris.