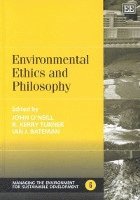 Fler böcker inom
Format

Inbunden (Hardback)

Språk

Engelska

Antal sidor

704

Utgivningsdatum

2001-11-01

Förlag

Illustrationer

figs.tabs.

Dimensioner

254 x 177 x 57 mm

Vikt

1292 g

ISBN

9781840642216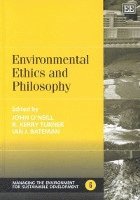 Environmental Ethics and Philosophy
Specialorder (osäker tillgång). Skickas från oss inom 11-20 vardagar.

Fri frakt över 249 kr för privatkunder i Sverige.
'Sustainability' and 'sustainable development' have become key phrases of the politics of the environment. They are at the centre of much environmental discourse and indeed of the series of which this collection is a part. This major volume brings together a number of recent papers that address the ethical and political assumptions that underlie different uses of those concepts.Part I examines equality and justice. Part II focuses on justice, equality and future generations. Part III deals with the moral considerability of the non-human world and Part IV looks at environmental justice. Part V examines economic valuation and Part VI discusses sustainability. Part VII covers sustainability and nature. This volume will be an invaluable source of reference for scholars of environmental economics, environmental political theory, environmental ethics and geography, and all those concerned with the philosophical foundations of sustainability.
Passar bra ihop
+
Fler böcker av författarna
Ian J Bateman, Richard T Carson, Brett Day, Michael Hanemann, Nick Hanley
Recensioner i media
'The volume. . . ties up all the philosophical issues that lie behind and are raised by the concept(s) of sustainable development - intergenerational equity, intragenerational justice, respect for non-human life, the problem of wilderness, eco-feminism, the monetarisability of the environment and the replaceability of natural "capital". Although there is much discussion of the meaning of equity - which is overly confused here with equity - this volume covers all of the key areas admirably. It is so refreshing to read papers that tear to pieces the notion that monetarism can ever be a way of solving environmental problems, and particularly that show how the concept of "willingness to pay", so beloved of economists, is anathema to sustainable development.' -- Hazel Greenwood, Place 'John O'Neill's introduction is outstanding . . . excellent volume, one that will be an invaluable reference work.' -- John Barry, Organization and Environment
Övrig information
Edited by John O'Neill, Professor of Philosophy, University of Manchester, UK, R. Kerry Turner, Professor of Environmental Sciences, School of Environmental Sciences and Director, Centre for Social and Economic Research on the Global Environment (CSERGE) and the Programme in Environmental Decision Making (PEDM), University of East Anglia, UK and Ian J. Bateman, OBE, Professor of Environmental Economics, Director of the Land, Environment, Economics and Policy Institute (LEEP), University of Exeter, UK
Innehållsförteckning
Contents: Acknowledgements Introduction: Sustainability: Ethics, Politics and the Environment John O'Neill PART I EQUALITY AND JUSTICE 1. G.A. Cohen (1989), 'On the Currency of Egalitarian Justice' 2. Derek Parfit (1997), 'Equality and Priority' 3. Richard Norman (1997), 'The Social Basis of Equality' PART II JUSTICE, EQUALITY AND FUTURE GENERATIONS 4. Gregory S. Kavka (1982), 'The Paradox of Future Individuals' 5. Derek Parfit (1982), 'Future Generations: Further Problems' 6. Robert Elliot (1989), 'The Rights of Future People' 7. Avner De-Shalit (1992), 'Community and the Rights of Future Generations: A Reply to Robert Elliot' 8. John O'Neill (1993), 'Future Generations: Present Harms' 9. Brian Barry (1996), 'Circumstances of Justice and Future Generations' 10. Wilfred Beckerman (1999), 'Sustainable Development and our Obligations to Future Generations' [Previously appeared as 'Intergenerational Equity and the Environment' 11. Brian Barry (1997), 'Sustainability and Intergenerational Justice' PART III THE MORAL CONSIDERABILITY OF THE NON-HUMAN WORLD 12. Kenneth E. Goodpaster (1978), 'On Being Morally Considerable' 13. Peter Singer (1986), 'All Animals are Equal' 14. Robin Attfield (1981), 'The Good of Trees' 15. Paul W. Taylor (1981), 'The Ethics of Respect for Nature' 16. J. Baird Callicott (1995), 'Animal Liberation: A Triangular Affair: Preface (1994)' and 'Animal Liberation: A Triangular Affair' 17. Arne Naess (1973), 'The Shallow and the Deep, Long-range Ecology Movement. A Summary' PART IV ENVIRONMENTAL JUSTICE 18. Ramachandra Guha (1989), 'Radical American Environmentalism and Wilderness Preservation: A Third World Critique' 19. J. Martinez-Alier (1995), 'Political Ecology, Distributional Conflicts, and Economic Incommensurability' 20. Val Plumwood (1992), 'Feminism and Ecofeminism: Beyond the Dualistic Assumptions of Women, Men and Nature' PART V ECONOMIC VALUATION 21. Mark Sagoff (1981), 'Economic Theory and Environmental Law' 22. Russell Keat (1994), 'Citizens, Consumers and the Environment: Reflections on The Economy of the Earth' 23. Robert E. Goodin (1994), 'Selling Environmental Indulgences' 24. John O'Neill (1997), 'Managing Without Prices: The Monetary Valuation of Biodiversity' PART VI SUSTAINABILITY 25. Andrew Dobson (1996), 'Environment Sustainabilities: An Analysis and a Typology' 26. Wilfred Beckerman (1994), '"Sustainable Development": Is it a Useful Concept?' 27. Herman E. Daly (1995), 'On Wilfred Beckerman's Critique of Sustainable Development' 28. Michael Jacobs (1995), 'Sustainable Development, Capital Substitution and Economic Humility: A Response to Beckerman' 29. Wilfred Beckerman (1995), 'How Would you Like your "Sustainability", Sir? Weak Or Strong? A Reply to my Critics' PART VII SUSTAINABILITY AND NATURE 30. Robert Elliot (1982), 'Faking Nature' 31. Bryan Norton (1992), 'Sustainability, Human Welfare, and Ecosystem Health' 32. Paul M. Wood (1997), 'Biodiversity as the Source of Biological Resources: A New Look at Biodiversity Values' Name Index