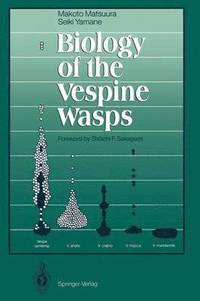 Fler böcker inom
Format

Häftad (Paperback / softback)

Språk

Engelska

Antal sidor

323

Utgivningsdatum

2011-12-13

Upplaga

Softcover reprint of the original 1st ed. 1990

Förlag

Medarbetare

Sakagami, Shoichi F. (foreword)

Illustrationer

XIX, 323 p.

Dimensioner

234 x 156 x 18 mm

Vikt

481 g

Antal komponenter

1

Komponenter

1 Paperback / softback

ISBN

9783642752322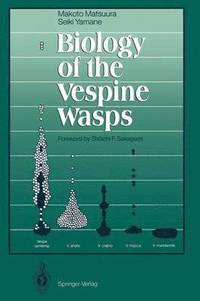 Biology of the Vespine Wasps
Skickas från oss inom 7-10 vardagar.

Fri frakt över 199 kr för privatkunder i Sverige.
It is a great privilege and pleasure for me to write the foreword to this book, which is the result of considerable effort on the part of Dr. Makoto Matsuura and Mr. Seiki Yamane. Such an introduction might sound like a cliche, but in this case the sentiments are real, since the preparation of this book really has been a laborious task. In fact, I think it would not be an exaggeration to say that such a book could only be published once every 100 years. I would like to explain why I regard this book as unique. It is well known that as social insects "hachi" (as bees and wasps are called in Japanese), as well as ants and termites, have a very diffe rent way of life from that of other insects. Each of these three groups has its own characteristics. Ants and hachi are classified in the same category; in other words, an ant is sim ply a wasp which has lost its wings and its sting, and has adapted itself to an underground life. Termites, on the other hand, are an aberrant cockroach, descended from a phyletic line which is completely diffe rent from that of ants and hachi, which undergo complete metamor phosis. On the other hand, ants and termites have a common feature: all members have adopted a social life.
Passar bra ihop
+
Innehållsförteckning
1. The Vespinae in Insect Sociology.- 1 Historical Review.- 2 The Vespine Wasps as Social Insects.- 2. Life Cycle.- 1 Features of the Life Cycle.- 2 Behavior of Queens Before Nest Foundation.- 2.1 Behavior of Queens Emerging from Hibernation.- 2.2 Migration Before Nesting.- 3 Nesting Periods.- 3.1 Preemergence (Solitary) Period.- 3.2 Cooperative Period.- 3.3 Polyethic Period.- 3.4 Reproductive Period.- 4 Hibernating Habits.- 4.1 Departure of New Queens and Males from Nest.- 4.2 Copulation.- 4.3 Hibernation.- 3. Nesting Habits.- 1 Nesting Materials.- 2 Nest Sites.- 2.1 Nest Sites of Each Genus and Species.- 2.2 Intra-and Interspecific Competition for Nest Sites.- 3 Colony Foundation.- 3.1 Haplometrotic Nest Foundation.- 3.2 Early Colony Development.- 3.3 Behavior of Foundress Queen.- 3.4 Conspecific Queen's Visit to Established Nests.- 3.5 Daily Activity of Foundress.- 3.6 Abnormal Nestings.- 4 Architecture and Function of Embryo Nests.- 4.1 Embryo Nest Architecture.- 4.2 Function of Embryo Nests.- 5 Development and Structure of Nest.- 5.1 Changes in Shape of Nest.- 5.2 Modification of Nest Site.- 5.3 Envelope.- 5.4 Combs.- 5.5 Pillars.- 5.6 Weather Stripping.- 6 Nest Relocation.- 6.1 Process of Relocation.- 6.2 Function of Relocation.- 7 Repair.- 7.1 Factor Dependency.- 7.2 Reconstruction.- 4. Social Structure and Behavior.- 1 Division of Labor Between Queen and Workers.- 1.1 Caste Differentiation.- 1.2 Behavioral Changes in Queen in Relation to Worker Emergence.- 1.3 Relationship Between Size of Colony and Division of Labor.- 2 Relation Between Labor and Age in Worker.- 2.1 Behavior of Workers Soon After Emergence.- 2.2 Orientation Flight.- 2.3 Day Age and Labor.- 2.4 Proportion of Time Spent in Each Activity.- 3 Oviposition by Workers.- 3.1 Worker Behavior After Loss of Foundress.- 3.2 Mechanism of Occurrence of Laying Workers.- 4 Behavior of Larvae.- 4.1 Orientation Within Cell.- 4.2 Behavioral Repertoire.- 4.3 Hunger Signal and Pattern of Feeding Habits.- 4.4 Origin of Hunger Signal.- 4.5 Comparison Between Species and Genera.- 5 Trophallaxis Between Larvae and Adults.- 6 Daily Activity of Workers.- 5. Foraging Behavior.- 1 Food Sources and Feeding Habits.- 1.1 Carbohydrate Sources.- 1.2 Protein Sources.- 1.3 The Search for Prey.- 1.4 Capture and Treatment of Prey.- 2 Dependence of Vespa tropica on Polistine Wasps.- 2.1 Objects of Attack.- 2.2 Collection of Prey.- 2.3 Phenology of Attack.- 2.4 Ratio of Polistes Nests Attacked by V. tropica.- 2.5 Period of Predation on Polistes Nests.- 2.6 Fate of Attacked Polistes Colonies.- 2.7 Restriction of V. tropica Colony Size in Temperate Regions.- 3 Group Predation by Vespa mandarinia.- 3.1 Phenology of Attacks.- 3.2 Predatory Habits.- 3.3 Foraging Distance.- 3.4 Ratio of Nests Attacked by V. mandarinia.- 3.5 Defense Strategy in Japanese Honeybee Apis cerana.- 3.6 Characteristics of Group Predation.- 4 Foraging Distance.- 5 Intra- and Interspecific Relationships at Tree Sap Apertures.- 5.1 Dominance Relationships Among Post-Hibernating Queens.- 5.2 Behavior Toward Other Insects.- 5.3 Occupation of Tree Apertures by Workers in Summer.- 6. Population Dynamics.- 1 Survivorship Curves of Workers.- 1.1 Length of Developmental Stage.- 1.2 Survivorship Curves.- 1.3 Fate of Brood at Emergence of Reproductives.- 2 Seasonal Changes in Population Structure.- 2.1 Number of Cells.- 2.2 Number of Individuals According to Developmental Stage.- 2.3 Colony Size.- 2.4 Duration of Life Cycle and Type of Life History.- 2.5 Seasonal Development of a Single V. tropica Colony.- 3 Production of Reproductives.- 3.1 Number of Reproductives Produced per Colony.- 3.2 Larva: Worker Ratio (L/W).- 4 Sympatry and Mechanism of Coexistence in Five Vespa Species.- 5 Survivorship of Colonies and Factors Influencing Mortality.- 5.1 Survivorship of Colonies.- 5.2 Mortality Factors.- 6 Annual Fluctuations in Number of Colonies.- 7. Life of Wasps in the Tropics.- 1 Life Cycle Characteristics.- 1.1 Asynchronism.- 1.2 Vari