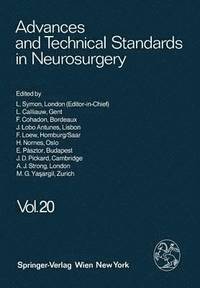 Fler böcker inom
Format

Häftad (Paperback / softback)

Språk

Engelska

Antal sidor

308

Utgivningsdatum

2011-10-06

Upplaga

Softcover reprint of the original 1st ed. 1993

Förlag

Medarbetare

Symon, L. (ed.), Yasargil, M. G. (ed.), Calliauw, L. (ed.), Cohadon, F. (ed.), Antunes, J. Lobo (ed.), Loew, F. (ed.), Nornes, H. (ed.), Pásztor, E. (ed.), Pickard, J. D. (ed.), Strong, A. J. (ed.)

Illustrationer

XIII, 308 p.

Dimensioner

244 x 170 x 18 mm

Vikt

531 g

Antal komponenter

1

Komponenter

1 Paperback / softback

ISBN

9783709174333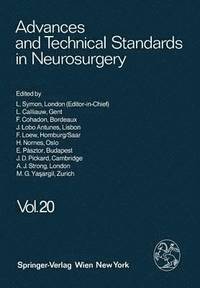 Advances and Technical Standards in Neurosurgery
Skickas inom 7-10 vardagar.

Gratis frakt inom Sverige över 199 kr för privatpersoner.
As an addition to the European postgraduate training system for young neurosurgeons we began to publish in 1974 this series of Advances and Technical Standards in Neurosurgery which was later sponsored by the European Association of Neurosurgical Societies. This series was first discussed in 1972 at a combined meeting of the Italian and German Neurosurgical Societies in Taormina, the founding fathers of the series being Jean Brihaye, Bernard Pertuiset, Fritz Loew and Hugo Krayenbiihl. Thus were established the principles of European co operation which have been born from the European spirit, flourished in the European Association, and have throughout been associated with this series. The fact that the English language is well on the way to becoming the international medium at European scientific conferences is a great asset in terms of mutual understanding. Therefore we have decided to publish all contributions in English, regardless of the native language of the authors. All contributions are submitted to the entire editorial board before publication of any volume. Our series is not intended to compete with the publications of original scientific papers in other neurosurgical journals. Our intention is, rather, to present fields of neurosurgery and related areas in which important recent advances have been made. The contributions are written by spe cialists in the given fields and constitute the first part of each volume.
Passar bra ihop
+
Fler böcker av författarna
J Brihaye, L Calliauw, F Loew, R Van Den Bergh

The human personality is inextricably bound up with, among other things, the function of the central nervous system. Diseases and malfunctions of the brain, head injuries and neurosurgical operations can all result in permanently altered behaviour...
Innehållsförteckning
A. Advances.- Post-Traumatic Brain Swelling.- Acute Cerebral Hemispheric Swelling.- Definition, Incidence, Clinical Significance, and Radiological Presentation.- Pathophysiology.- Management.- Acute Generalized Brain Swelling.- Definition.- Incidence and Clinical Significance.- Radiology.- Pathophysiology.- Management.- References.- Transcranial Doppler in Neurosurgery.- Summary.- Instrumentation Principles and Investigation Techniques.- The Examination.- Blood Velocity Versus Blood Flow.- Absolute Values.- Relative Changes.- Normal Values.- The Resting Situation.- Cerebral Vasomotor Responses.- Cerebral Perfusion Pressure.- Cerebral Circulation and Intracranial Pressure.- Cerebral Circulatory Arrest and Brain Death.- Head Injury.- Subarachnoid Haemorrhage.- Hemispheric Index.- The First Minutes and Hours After SAH.- Time Course After Aneurysmal SAH.- Distal Artery Spasm.- Delayed Ischemic Dysfunction.- The Effect from Surgery.- Correlation with Angiography.- SAH from Other Causes.- Special Considerations.- Hemispheric Index.- Examination Technique.- Cerebral Vaso spasm - Physiology and Pharmacology.- Clinical Implementation.- Surgical Occlusion of the Carotid Artery.- Examination Technique - Special Considerations.- Arteriovenous Malformations.- Recognition of AVM.- Haemodynamical Assessment.- Postoperative Findings.- Clinical Implementation.- References.- Clinical and Molecular Neurogenetics in Neurosurgery.- Summary.- Mendelian Inheritance and Nucleic Acids.- Genetic Variation.- Detection of DNA Polymorphism.- Gene Mapping and Isolation.- Isolating Disease Genes.- The Clinical Application of Linked DNA Markers.- Molecular Genetic Studies of Inherited Tumour Syndromes.- Neurofibromatosis 1.- Clinical Features.- Genetic Aspects.- Prognosis and Management.- Bilateral Acoustic Neurofibromatosis (NF 2).- Clinical Features.- Genetic Aspects.- Diagnosis and Management.- Von Hippel-Lindau Disease.- Molecular Genetics of Gliomas.- References.- B. Technical Standards.- Surgery for Hindbrain Related Syringomyelia.- Summary.- Definitions.- Historical Concepts.- Classification.- Pathogenesis.- The Hydrodynamic Forces.- Suck.- The Communicating Hypothesis.- "Slosh".- Transmural Pressure Gradients.- Synopsis of Present Views of Pathogenesis.- Clinical Presentation.- Hindbrain Herniation.- Cord Presentation.- Radiological Assessment.- Plain Radiographs.- Computerized Tomography.- Water Soluble Myelography.- Magnetic Resonance Imaging.- Operation: Indications.- Tumours.- Hindbrain Related Syringomyelia.- Ventricular Shunting.- Craniovertebral Decompression.- Transpharyngeal Removal of the Odontoid Peg.- When Should a Hindbrain Hernia Be Left Alone?.- Which Operation for Patients with Hindbrain Hernia?.- Technique.- Ventricular Shunting.- Hindbrain Decompression.- Objectives.- Caveats.- Position.- Exposure.- Dealing with the Arachnoid.- Dealing with the Tonsils.- Closure.- Syrinx Drainage.- Syrinx to Subarachnoid Shunting.- Syringopleural Shunting.- Outcome: Complications.- Hindbrain-Related Syringomyelia.- Respiratory Problems.- Hydrocephalus.- Inadequate Decompression.- Slump.- Persistent Tension in the Syrinx.- Results.- Spinal Instability.- Follow-up.- Counselling and Support.- Future Developments.- References.- Medulloblastoma.- I. Epidemiology.- II. Pathology.- III. Etiology and Patho-Physiology of the Tumour's Development.- IV. Clinical Features.- V. Radiology.- CT Scan.- MRI.- VI. Treatment.- A. Surgery.- B. Radiotherapy.- C. Chemotherapy.- VII. Results.- VIII. Recurrences.- References.- Haemangioblastoma, Haemangioblastomatosis, and von Hippel-Lindau Disease.- Abbreviations.- 1. Introduction.- 1.1. Preface.- 1.2. Definition.- 2. Historical Sketch.- 3. Incidence - Location - Morphology.- 3.1. Posterior Cranial Fossa Haemangioblastomas.- 3.1.1. Incidence.- 3.1.2. Cerebellar Haemangioblastomas.- 3.1.3. Brain Stem Haemangioblastomas.- 3.1.4. Cerebellopontine Angle Haemangioblastomas.- 3.2. Spinal Haemangioblastomas.- 3.2.1. In