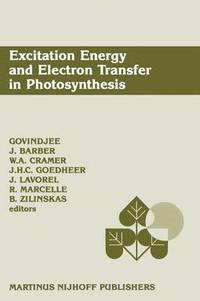 Fler böcker inom
Format

Häftad (Paperback / softback)

Språk

Engelska

Antal sidor

388

Utgivningsdatum

2011-09-30

Upplaga

Softcover reprint of the original 1st ed. 1987

Förlag

Medarbetare

Marcelle, R. (red.)/Zilinskas, B. (red.)

Illustrationer

388 p.

Dimensioner

234 x 156 x 21 mm

Vikt

558 g

Antal komponenter

1

Komponenter

1 Paperback / softback

ISBN

9789401080767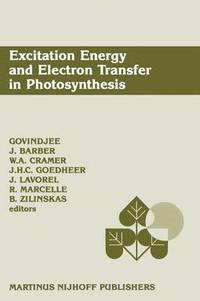 Excitation Energy and Electron Transfer in Photosynthesis
Dedicated to Warren L. Butler
Skickas från oss inom 7-10 vardagar.

Fri frakt över 249 kr för privatkunder i Sverige.
Finns även som
Läs i DRM-kompatibel e-boksläsare.
The present volume "Excitation Energy and Electron Transfer in Pho* tosynthesis" is dedicated to a colleague and dear friend Warren L. But ler. I first met Warren when he visited the University of Illinois at Ur bana during the early sixties; he left an indelible impression on me as a person with warmth and enthusiasm. Initially, he was someone I looked to for guidance, but later we also became friends. Whenever I passed through Los Angeles, I always telephoned Warren and often end ed up taking a plane to San Diego to stay with two wonderful people, Warren and his wife Lila. His invitations could never be refused. Below I reproduce the words of Herbert Stern on Warren L. Butler's life; these words express my sentiments as well as those of many of Warren's friends: ''A lifetime of acedemic creativity criss-crossed by streaks of highbrow and lowbrow fun. There is no summary to this adventure be cause we can neither make nor proclaim an end. Warren has bequeathed us his garden of academic treasures. It is ours to keep and tend. There is lots of joy in our many recollections of Warren's life and sorrow's foil can only brighten the brightness that the joy radiates.
Passar bra ihop
+
Fler böcker av författarna
Recensioner i media
`... this is a valuable book that adequately updates the literature in this fascinating and fast-moving area of research.' `... a book for specialists ...' Phytochemistry, Vol. 26, 1987.
Innehållsförteckning
Warren L. Butler; a tribute to a friend and fellow scientist.- Publications of Warren L. Butler on Photosynthesis compiled.- I. Photosynthetic Unit; the Antenna System; and the Photosynthetic Pigments.- *1. The Optical Cross Section and Absolute Size of a Photosynthetic Unit.- *2. Organization of the Photosynthetic Units, and Onset of Electron Transport and Excitation Energy Distribution in Greening Leaves.- *3. Chlorophyll-Protein Complexes.- 4. Relationships among Cell Chlorophyll Content, Photosystem II Light-harvesting and the Quantum Yield for Oxygen Production in Chlorella.- 5. A Consideration of the Organization of Chloroplast Photosystem I.- 6. A High Molecular Weight Terminal Pigment "Anchor Polypeptide") and a Minor Blue Polypeptide from Phycobilisomes of the Cyanobacterium Nostoc sp. (Mac): Isolation and Characterization.- 7. Exciton Interactions in Phycoerythrin.- 8. The Light-harvesting Chlorophyll a/b Protein Acts as a Torque Aligning Chloroplasts in a Magnetic Field.- 9. Relative Sensitivity of Various Spectral Forms of Photosynthetic Pigments to Leaf Senescence in Wheat (Triticum Aestevum L.).- II. Excitation and Energy Migration; Regulation of Energy Transfer; State Transition; and Variable Chlorohyll a Fluorescence.- *10. Energy Migration and Exciton Trapping in Green Plant Photosynthesis.- *11. Regulation of Energy Transfer by Cations and Protein Phosphorylation in Relation to Thylakoid Membrane Organization.- *12. Mono-Di-Tri- and Polypartite Models in Photosynthesis.- 13. Influence of Thylakoid Protein Phosphorylation and Photosynthetic Electron Transport and Photophosphorylation.- 14. Energy Distribution in the Photochemical Apparatus of Porphyridium cruentum: Picosecond Fluorescence Spectroscopy of Cells in State 1 and State 2 at 77K.- 15. Analysis of Emerson Enhancement under Conditions Where Photosystem II is Inhibited: Are the Two Photosystems indeed separated?.- 16. Observation of Enhancement and State Transitions in Isolated Intact Chloroplasts.- 17. Energy-Dependent Quenching of Dark-level Chlorophyll Fluorescence in Intact Leaves.- 18. Mechanisms of Chlorophyll Fluorescence Revisited: Prompt or Delayed Emission from Photosystem II with Closed Reaction Centers.- 19. Evidence that the Variable Chlorophyll Fluorescence in Chlamydomonas reinhardtii is not Recombination Fluorescence.- 20. Radiationless Transitions as a Protection Mechanism against Photoinhibition in Higher Plants and a Red Alga.- III. Reaction Centers; Primary Photochemistry; and Early Acceptors and Donors.- *21. Electron Donors and Acceptors in Photosynthetic Reaction Centers.- 22. Influence of Magnetic Fields on the P-870 Triplet State in Rps. sphaeroides Reaction Centers.- 23. Photoreduction of Pheophytin in Photosystem II of the Whole Cells of Green Algae and Cyanobacteria.- IV. Electron Transfer in Photosynthesis; Components.- *24. Electron Transfer through Photosystem II Acceptors: Interactions with Anions.- *25. Inhibitors of Photosystem II and the Topology of the Herbicide and QB Binding Polypeptide in the Thylakoid Membrane.- *26. On the Structure and Function of Cytochrome b-559.- *27. Reverse Electron Flow in Chloroplasts.- *28. Multidisciplinary Research in Photosynthesis: A Case History Based on Chlamydomonas.- 29. ENDOR Characterization and D2O Exchange in the Z+./D+ Radical in Photosystem II.- 30. pH Dependent Stabilization of S2QA? and S2QB? Charge Pairs Studied by Thermoluminescence.- 31. pH Dependent Conformational Changes and Electrostatic Effects in Plastocyanin.- 32. Stimulation and Inhibition of Photosystem II Electron Transport in Cyanobacteria by Ions Interacting with Cytoplasmic Face of Thylakoids.- V. Oxygen Evolution; Components; and Mechanisms.- *33. Reaction Sequences from Light Absorption to the Cleavage of Water in Photosynthesis.- *34. Modification of Oxygen Evoling Center by Tris-Washing.- 35. Characterization of a Photosystem II Reaction Center Complex Isolated by Exposure of PSII Membranes t